,

Thursday, 4 January 2018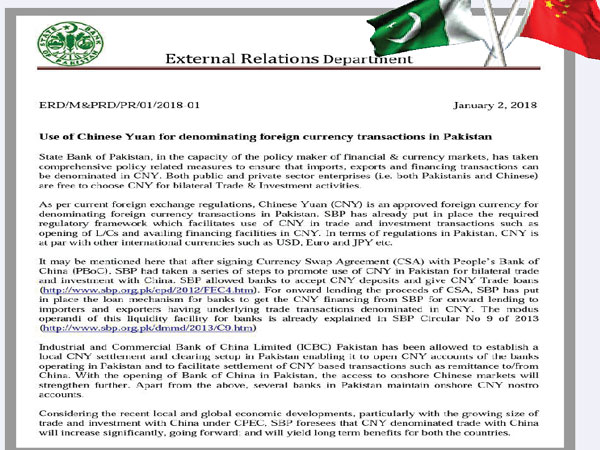 Strengthening its strategic and now financial relationship with China, Pakistan's external relations department has taken a monumental decision.
Pakistan's central bank has allowed the Chinese yuan to be used for bilateral trade and investment activities, a move which could replace the US dollar for transactions in the strategic China Pakistan Economic Corridor (CPEC) projects.
With Donald Trump pushing the envelope on curtailing financial aid to Pakistan now considered a rogue and toxic state and a sponsor of terror, Islamabad has no recourse, but to go deeper into the waiting Chinese embrace.
Together, they offer a formidable counterpoint to common neighbour India, which in any case is similarly looking at building a tactical alliance with Japan, obviously US and even Australia to keep an expansive China at bay.
For Trump, India is now a better pivot in Asia to counter balance China and continue with its war or terror operations in Afghanistan.
Ergo, the result is State Bank of Pakistan (SBP), in a circular issued on January 2, stated that all arrangements for using the Chinese currency for trade and investment were already in place. The adoption of yuan means that Pakistan and China wo­uld be able to replace the US dollar for transactions in the $50 billion CPEC projects.
Minister for planning and development Ahsan Iqbal had said on December 19 the government was considering a Chinese proposal to use renminbi or yuan inst­ead of the US dollar for payments in all bilateral trade.
"The SBP, in the capacity of the policy maker of financial and currency markets, has taken comprehensive po­licy-related measures to ensure that imports, exports and financing transactions can be denominated in yu­an," the Dawn reported on Wednesday, quoting the ba­nk statement on Tuesday.
The decision was taken after rejecting a Chinese pr­o­posal to allow yuan as legal tender in Gwadar, Balochistan, it said. The report said public and private sector ent­erprises (both of Pakistan and China) were free to ch­oose yuan for bilateral trade and investment activities.
A bank spokesman said the statement on yuan was issued because of too many queries from the media abo­ut the use of the currency for bilateral trade. He said it se­e­med there was confusion about the use of yuan for bil­a­teral trade, which was needed to be clarified with a detailed statement. In Pakistan, yuan is approved currency for denominating foreign currency transactions.
SBP has already put in place the required regulatory framework, which facilitates the use of yuan in trade and investment transactions su­ch as opening of letter of credits and availing of financing facilities in yuan, the report said.
In terms of regulations in Pakistan, yuan is on par with other international currencies such as dollar, euro and Japanese yen. In FY17, Pakistan exported goods and services worth $1.62 billion while imports from China were $10.57 billion, reflecting a great imbalance.