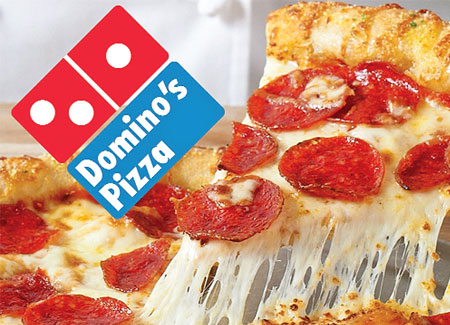 Jubilant Foodworks, which sells Domino's Pizza in India, slipped the most in 10 months on Wednesday after a video of bugs in a pizza seasoning sachet was widely circulated and viewed by consumers, casting doubts on the hygiene and quality of the products sold by the company. Deutsche Bank too raised concerns on bugs being found in a Domino's Pizza seasoning sachet. The global financial research firm said such an incident could potentially be serious for Domino's franchise in India, a news channel reported.
Jubilant Foodworks slipped 6.09 per cent to Rs 1,338 at the close of trade on the National stock Exchange on Wednesday.
The video of live insects crawling out of a Domino's Pizza seasoning packet was posted on Facebook by Rahul Arora, a Delhi resident, who claimed to have bought the pizza a day earlier. Arora filed a complaint with the DCA. It's difficult to tell with whom the buck stops, he pointed out to the local media. Domino's Pizza, operated by Jubilant Food Works, purchases oregano sachets from a company named Dry Blend Foods, presumably under the international quality standards set by the parent Domino's USA, and certified fit for consumption by the FSSAI.
The Domino's bugs incident underscores the unhygienic food storing and quality issues being faced by Indian and multinational companies. In 2003, Cadbury consumers found worms in Dairy Milk bars in Maharashtra and Kerela while Nestle had to withdraw its popular brand Maggi noodles after a government laboratory detected higher amount of Monosodium glutamate. Earlier, Tamil Nadu dairy development minister KT Rajenthra Bhalaji alleged that the milk powder supplied by Nestle and Reliance in the state contained chemicals like caustic soda and bleaching powder.
Meanwhile, Jubilant Foo­d­works said, "We have thoroughly checked the oregano sachets in our restaurants and across our value chain. We have found them to be safe for consumption."
—TickerNews Service