,

Thursday, 14 June 2018
Some experts believe listing option is better than outright fire sale idea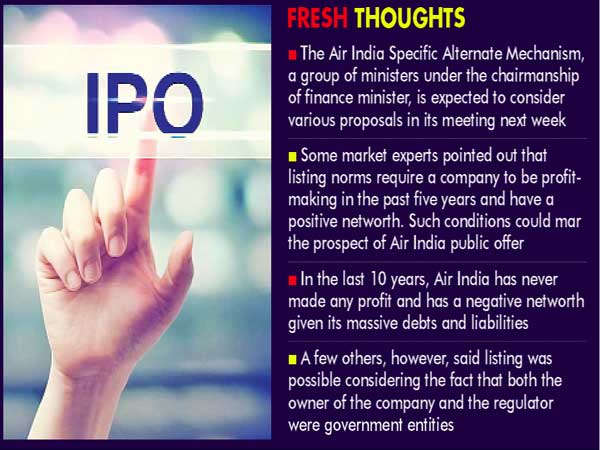 After failing to get any buyer for the debt-laden Air India, the aviation ministry is now mulling the option of listing the airline on the bourses. "Various options would be presented to the ministerial panel to take the disinvestment process forward. The option of putting the stake sale plan on hold could also be there," said a government official.
The Air India Specific Alternate Mechanism (AISAM), a group of ministers under the chairmanship of finance minister, is expected to consider various proposals in its meeting next week.
Some market experts pointed out that listing norms require a company to be profit-making in the past five years and have a positive networth. Such conditions could mar the prospect of Air India public offer, they added. In the last 10 years, Air India has never made any profit and has a negative networth given its massive debts and liabilities.
A few others, however, said listing was possible considering the fact that both the owner of the company and the regulator were government entities.
Experts said listing is a much better option than outright fire sale after accepting all the demands of the buyer. Air India being a loss making company, its valuation would be far lower than that of other listed airlines. Inter Globe Aviation, the parent company of IndiGo, which has the biggest market share in domestic skies, has a market capitalisation of Rs 46,966.83 crore. The government can compromise on its expectations of Air India valuation when it takes the loss-making enterprise to the primary market.
"A good part is that once listed, the pressure on the management of Air India to deliver results in term of improvement in top and bottom line numbers would increase manifold," noted an expert. In the public sector space, there are examples of operational performance improving after listing on stock exchanges, he said. "The biggest example is Coal India."
After listing and improving performance, the government may look at divesting and probably would get a much better valuation.
"When shares of companies facing bankruptcy can be traded at stock exchange with some value, Air India can also command value as the demand for air travel is ever-increasing and the sector is on high growth trajectory," a Mumbai-based research analyst said.
The government is also mulling options like offering entire 100 per cent stake to private investors besides sweetening the deal terms. The fresh disinvestment options have come following a tepid response from investors to bid conditions that required the buyer to take a large portion of debt and liabilities, protect employees and operate the carrier at arm's length from the existing business.
While the government is ready to address these concerns, some airline executives said that timing of the disinvestment plan is also an issue with General Elections approaching. It involves a lot of political risk given that there is no certainty that the present government will return to power. "After committing so much money no investor would like to come under scrutiny of various investigating agencies," an executive said referring to CBI and ED in case there is a change of regime.
The government has proposed to sell 76 per cent of its stake in Air India along with transfer of the management control to private players. It has decided to retain the remaining 24 per cent equity stake in the debt-laden company to sell it in future when it gets optimum value.
Air India is saddled with a debt of Rs 50,000 crore and is surviving on a bailout package worth Rs 30,231 crore.