The national capital is once again choking on extremely high levels of air pollution. PM2.5 air pollution hits children and the elderly hardest. Globally, chronic exposure to air pollution causes over 7 million deaths each year.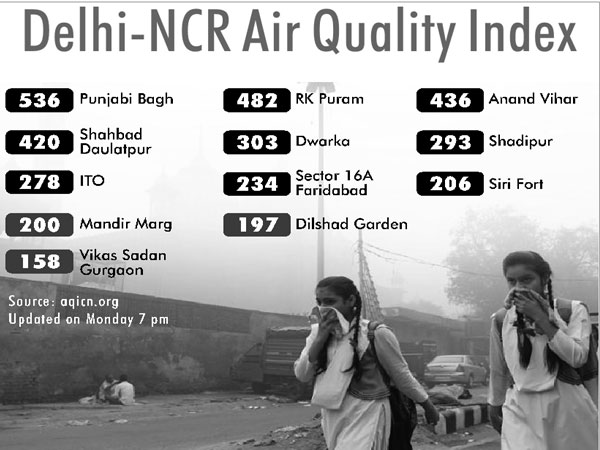 What causes PM pollution
Particulate matter (PM) is a term used to describe the mixture of solid particles and liquid droplets in the air. It can be either human-made or naturally occurring. Some examples include dust, ash and sea-spray. Particulate matter (including soot) is emitted during the combustion of solid and liquid fuels, such as for power generation, domestic heating and in vehicle engines. Particulate matter varies in size (that is the diameter or width of the particle).
Particulate matters are often divided into two main groups, based on their size. Inhalable coarse particles range from 2.5 micrometers to 10 micrometers in diameter (PM10 – PM2.5) and fine particles are found in smoke and haze with a size up to 2.5 µm (PM2.5).
The biggest impact of particulate air pollution on public health is understood to be from long-term exposure to PM2.5, which increases the age-specific mortality risk, particularly from cardiovascular causes.
Major man-made causes of PM pollution include:
Vehicular Pollution: Used for fueling vehicles, which in turn emit a large number of exhaust fumes containing hazardous particulates all over the globe, in huge quantities. Due to the large amounts if these pollutants in cities, countless deaths are caused by particulates.
Coal Combustion: Coal burning is still used in the majority of countries to generate heat and supplying energy, the burning of coal directly increases the amount of carbon monoxide and other hazardous particles into the atmosphere.
Wood combustion: The burning of wood is a wide scale cause of particulates, used for many purposes such as heating and generating power, the combustion process sends many toxic cocktails of pollutants into the atmosphere, such as soot.
Construction: Cement dust is a large portion of overall global pollutants, because of the dust's small particle size, it can hang around in the air for quite some time. The use of vehicles in the construction industry and other known pollutants makes the construction industries in dire need of reforming.
Demolition: Huge amounts of dust are thrown into the air during even the smallest demolition project, these particles are picked up into the wind, and again due to the small size of said particles, they can stay airborne for a very long time.
Road dust: Roads are covered in microscopic dust and pollutants which are sent airborne by the air pressure changes and wind caused when a car uses a road, this happens all over the planet.
Power plants: Plants that burn fossil fuels for energy and even nuclear plants disperse particulates on a huge scale, vast plumes of smoke will be found at most power plants, dispersing hundreds of cubic feet of pollutants every hour.
Industrial: Manufacturing plastics and other materials which create toxic fumes are dispersed into the oceans, air and land. Which in turn adds to the huge amount of man-made pollutants.
Agricultural: Pesticides and other volatile chemicals are sent into the air via sprayers and liquid jets. Again the agricultural industries use a large number of vehicles running on fuels such as petrol and diesel, which all attribute to the level of air pollution. Burning of stubbles is also a major contributor in India.
Livestock: The livestock industry creates a huge amount of particulates which are dispersed into the air, ground and oceans. Even the animals themselves have been found to disperse great quantities of methane into the atmosphere.
Deforestation: Felling trees for various industries impacts the rate at which trees would naturally produce carbon dioxide worldwide, however recent trends of replanting and harvesting cycles have reduced this.
Tobacco smoke: Hundreds of toxic chemicals are present in tobacco smoke, and due to the millions of smokers worldwide, this leads to further pollution.

Beijing's Smog Free Tower
Daan Roosegaarde, 38, a Dutch artist and innovator, has invented a giant seven-metre-tall air purifier, or a smog vacuum
Technology: Using ion technology, the tower captures PM2.5 and PM10 particles and releases clean air. The area in which the Smog Free Tower is installed has 75% cleaner than the surrounding area
Cubes: The tower collects and processes pollutants before condensing them into a cube
Cleaning power: The tower, standing about two stories tall, can clean 30,000 cubic metres of fine smog per hour and uses no more electricity than a water boiler, according to Roosegaarde
Test: The tower was tested in Rotterdam before it was used in Beijing
Cost: Reports suggest that the filters could cost about €120,000. The smaller ones cost less
Safe level: The World Health Organization safe level for PM2.5 is 25.|

The big fight against pollution

Mexico City story
Mexico City, once the most polluted city in the world, has about eight million vehicles – over 4.3 million cars – and about 25 million people. 50 per cent of pollution in Mexico City is from cars
Driving restrictions: The experiments have included ban on plying of private vehicles on specific days, higher taxes for playing on specific roads and barring older vehicles from playing
Old buses trashed: According to some studies this means a reduction of 20 tonnes per truck of green house gas emissions a year
Rooftop gardens: the Mexican government has financed rooftop gardens on public buildings, which release oxygen and absorb pollutants. Energy efficient-- in winter maintain insulations and lowers heating requirements
Results: The emission controls and phasing out of old and polluting vehicles helped to control pollution levels. However, after the initial success, Mexico City declared an environmental emergency in 2016, which was attributed to losing focus after the initial fight against pollution and failure to make large investments to clean the environment and poor city planning.
Beijing experience
Over a million people die of pollution-related causes in China every year.
Govt plan: The government underscores the importance of environmental protection by incorporating it into the annual national socioeconomic development plans. It has designated about 20 per cent of its territory as ecological zones and land and marine zones with sensitive and fragile ecological systems as the "red zones for ecological protection."
Drastic measures: To combat high pollution, the Chinese had shut coal-fired thermal plants and at one time cut production of polluting heavy industry like steel
Over 300,000 polluting old vehicles will be phased out and new energy cars will be promoted
2,570 polluting factories will be closed or upgraded
Cloud seeding: The Chinese have used this technology, which induces precipitation, to fight air pollution. It was even used to ensure clear skies over Beijing during the Olympics in 2008
Odd-and-even: Beijing has used restrictions of playing of vehicles based on odd or even registration numbers, like in Delhi.
It has also introduced strict conditions for registering new vehicles in Beijing
Budget: More than $ 2.6 billion will be the size of the war chest to fight air pollution.