,

Friday, 12 October 2018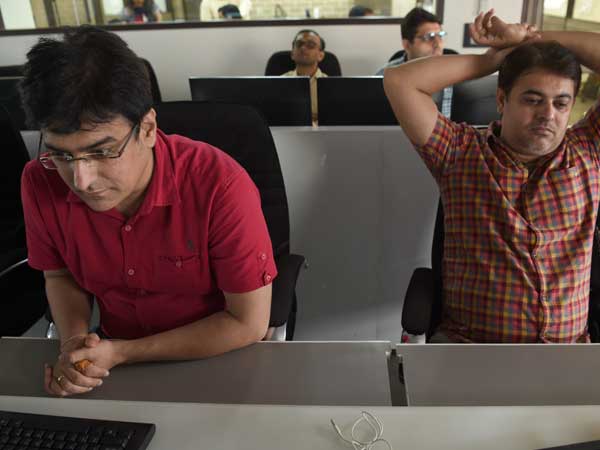 The market's fall by close to 13 per cent since August 29 peak has resulted in all the gains made in 2018 getting wiped out as on Thursday the benchmark index, Sensex, closed at 34,001 and Nifty 50 closed at 10,234.65, the levels last seen in early January.
The acceleration in market fall in October has shocked market participants as it has led to more than Rs 23 lakh crore of shareholders wealth getting eroded and looks there is no respite in near future as the smart pull back on Wednesday gave way to a rude shock on Thursday morning.
India has been facing the impact of surging crude oil and rupee weakening on its economy which is getting reflected in stock prices of late.
Saravana Kumar, chief investment officer at LIC Mutual Fund said, "Global stock market correction is putting pressure to Indian market. In addition equity market has corrected due to surging crude oil prices, depreciation of the rupee and turmoil in the NBFC sector due to IL&FS crisis. Shares of NBFCs has corrected due to concerns on the tighter liquidity and after RBI said it would tighten the rules."
Going forward the cues for the market will be coming from the corporates earnings season which has commenced on a good note with Tata Consultancy Services, Bandhan Bank and Zee Entertainment announcing good numbers.
"Institutional investors will be watching closely on quarterly financial results and taking calls on the future direction. It is expected, since equity market has corrected at good percentage, selective sectors would recover soon," said Saravana Kumar.
PSU banks also will be on investors buying list post heavy corrections they have faced as they have shown resilience in the recent market fall and even during Thursday's fall.
Sameet Chavan, chief analyst-Technical and Derivatives, Angel Broking said, "The banking index as well as the midcap index clearly outperformed the benchmark as we did not see these two key indices breaching their recent lows. We construe this as a sign of strength and in case of some bounce back move; both these pockets would outperform the benchmark index by a fair margin."
Mehul Kothari, senior technical analyst-Equity, IndiaNivesh Securities said, "With the ongoing correction in the market certain pockets have started looking attractive. The PSU Banks have been the most underperforming sector of the year 2018. Majority of the stocks in the index are highly oversold and showing signs of exhaustion. After this underperformance, PSU banks have lately outperformed the recent crash. We expect some buying interest in the PSU Banks stocks going ahead."
Hemang Jani, head-advisory, Sharekhan by BNP Paribas said, "We expect buying interest to return sooner or later, with most quality companies correcting by 10-25 per cent. We remain constructive on quality companies in IT services as despite the rally, valuations are in-line with long term average multiples, selective in consumer space (prefer discretionary rather than richly valued staples) and pharma (another beneficiary of rupee depreciation)."