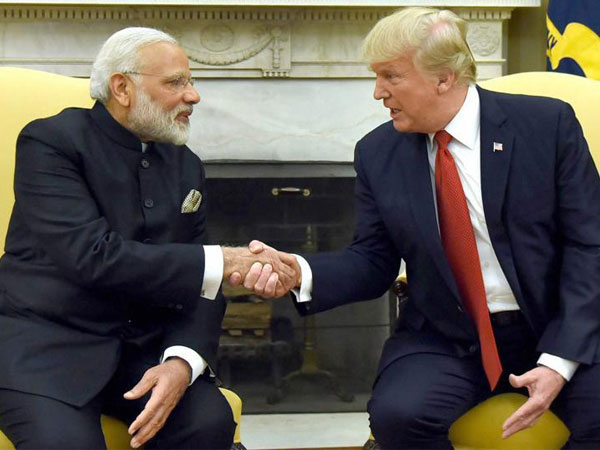 Once is chance, twice is coincidence and third time is a pattern. The pace at which dominos are falling in Kashmir Valley situation seems to suggest that a new overarching pattern has emerged and strangely, the US is its centrifuge. For long, a policy of drift was allowed in Kashmir's festering sore. Last winter was a wasted opportunity, when a political dialogue could have been initiated by the Centre with various stakeholders, including the separatists. This came against the backdrop of a brutal spiral of violence and bloodletting in the Valley. To retrieve the situation, the Ajit Doval doctrine was used with a multi pronged strategy and that seemed to be gaining traction, though disquiet and alienation of the common populace grew apace, religious Islam having been rapidly replaced by Wahabi Salafism influence political Islam. The cold pipes of the internet having prevailed leading to widespread indoctrination and proselytising.
From discrediting the Hurriyat using a combination of selective leaks to media and a relentless pursuit by the NIA, it was established that these anti India hectoring joint resistance front, which brought the trinity of Syed Ali Shah Geelani, Mirwaiz Farooq and the cold blooded murderer Yasin Malik on the same platform were rogues and in bed with Pakistan using their money to instigate the youth through stone pelting and acting as shields during militant strikes. The larger subliminal message of dealing with the wrecked psyche of the Kashmiri was ignored even as Jackboots rightly hit the ground to resume the dreaded search, cordon and destroy operations in the main in south Kashmir which was on the verge of being announced as a liberated zone.
Two months ago in late September, the narrative changed dramatically leading to a vital government volte face later. It coincided with the visit of US defence secretary Jim Mattis. With the Trump administration keen on using India as the new pivot against Islamic fighters and ongoing war on terror in Afghanistan and baiting China concurrently, the emphasis on joint cooperation appeared to be growing surreptitiously. The Pentagon underlined on the eve of his visit that "the secretary will emphasise that the United States views India as a valued and influential partner, with broad mutual interests extending well beyond South Asia" and "will also express US appreciation for India's important contributions toward Afghanistan's democracy, stability, prosperity, and security." It was clear that something was brewing. Trump's engagement in the region, including his growing outreach to India, viewing it as a "critical part" of his administration's South Asia policy is crucial to further develop the US strategic partnership with India.
But it was still early days to see the contours of the new policy of engagement on the part of the US and the BJP's radical change in its Kashmir policy. Exactly a month later, home minister Rajnath Singh signalled a shift in the policy by announcing former DIB Dineshwar Sharma as the Centre's special representative to conduct an all encompassing dialogue with Kashmiris and jump starting the long awaited political dialogue with people in the Valley. This was on the eve of US Secretary of State Rex Tillerson's first visit to India and in my last piece on Kashmir, I tried to connect these dots by stating that the about turn by the BJP stemmed from sort of US pressure.
Now, it has been revealed that just days before Dineshwar Sharma's appointment and a return to political dialogue, a US diplomat visited Kashmir. On September 27, Joshua Goldberg, political unit chief at the Bureau of South and Central Asian Affairs in Washington DC, visited Srinagar along with David Arulanantham, an official from the US Embassy in New Delhi. Yes, there is a foreign hand in all this — Goldberg and David stayed for a night and met three ministers in the Mehbooba Mufti government, human rights lawyer Parvez Imroz, Khurram Parvez of Jammu Kashmir Coalition of Civil Society and two journalists. US defence secretary Jim Mattis had arrived in India a day earlier — the first cabinet-level visit to India under the Trump Administration. The dots were connected. Has India then succumbed to US pressure on conducting a dialogue with separatists, a major draw down from the BJP's stated position earlier? Goldberg was interested to "know the ground situation and viability of a reach out from Delhi, a dialogue process." "He was, in diplomatic style, enquiring about the scope for dialogue and whether Kashmiris would welcome dialogue,'' one among those who met Goldberg told a newspaper. "He also wanted to know the ground situation, especially after last year's agitation and spurt in militant recruitment."
One can argue that this is nothing new for in May a similar fishing expedition was undertaken by US diplomats. Civil society groups and others who met them say they were "more concerned and worried" about the escalating tension between the armies of India and Pakistan along the Line of Control (LoC) in Jammu and Kashmir. According to an intelligence report, the diplomats —David P Arulanantham (yes the same man), political affairs head of the US Embassy in Delhi, and another diplomat Robert Jacob Duval visited the Valley. The diplomats met a cabinet minister and a senior police official. "They knew what is going on along the LoC between the two armies, especially in Rajouri sector," says a Kashmiri interlocutor who met the diplomats. "They also knew about happenings in the Valley and were concerned and worried." Like in their previous visits, the diplomats ignored the separatist leaders. "It doesn't matter whether American diplomats meet us or not," says Prof Abdul Gani Bhat, former Hurriyat Conference chairman was quoted as saying to media. "What matters is that they hear noises and the noises have started producing music in terms of the urgency in addressing Kashmir."
In April there wads flutter in the dovecotes when US Ambassador to the UN Nikki Haley generated a huge controversy when she said the Donald Trump administration was concerned about continuing and escalating tension between India and Pakistan and would not wait for things to go worse. She said the US might offer to mediate between India and Pakistan to "de-escalate" the tension and even Trump might come forward to play an active role.
Three is a pattern has now been validated. It is clear that increasing US pressure brought to bear on India is leading to the resumption of dialogue with all stakeholders. While this is welcomed, the role of United States doesn't augur well, more so, if we are capitulating under their relentless pressure. There has to be some element of quid pro quo which one is not privy to. For in July, the US State Department declared Syed Salahuddin, underground commander of the Pakistan-based chief of Hizbul Mujahideen, as a "global terrorist," and imposed new sanctions aimed at suppressing his organisation, one of the major militant groups fighting against alleged Indian rule in Kashmir.
The bedeviled and almost intractable Kashmir problem remains on the front burner for global strategic affairs watcher as it remains incendiary. Pertinently, the trial balloon that the BJP had floated on the controversial nature of Article 35A which allows permanent residency to Kashmiris in parallel to sending the jackboots back to south Kashmir has also fizzled out. On October 30, SC deferred hearing in the matter of Article 35A for three months, Article 35A of the Constitution empowers the state legislature of J&K to define its "permanent residents" and their special rights and privileges. It was added to the Constitution through a presidential order in 1954.
Interestingly, appearing before a bench of chief justice Dipak Misra and justices AM Khanwilkar and DY Chandrachud, attornery general KK Venugopal informed the court that former IB director Dineshwar Sharma had been entrusted with the task to hold talks and pleaded that the case be adjourned for six months. Senior advocate Rakesh Dwivedi, appearing for the state, supported the stand of the Centre and said it was not the right time to adjudicate the issue. Centre wanted it deferred by six months, SC only made it three months, confirming yet again that a new US articulated game is afoot.
A dangerous trend line, for this remains our internal matter and at best needs to be resolved bilaterally with Pakistan, underpinned as it is by the fact that India has legal, moral, constitutional hold over the state of J&K. If this is the road to catechism, then it should have been taken last winter. A year has been wasted, lives lost, estrangement and isolation grown.
(sandeep.bamzai@mydigitalfc.com)