Nilekani has got what he had been hankering for ' a clean slate and his own team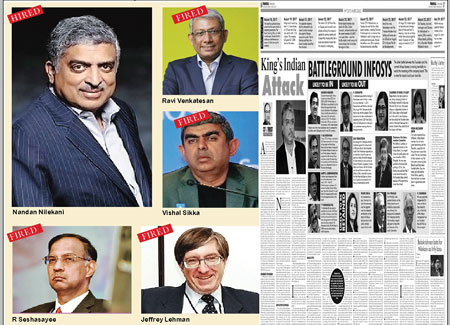 Return of prodigal: Nandan back at Infy as non-executive chairman
It is a military style execution, a coup d'etat. On Thursday evening as if by clockwork, both chairman R Seshasayee and co-chairman Ravi Venkatesan quit and expectedly Nandan Nilekani was appointed Infosys non-executive chairman and non-independent director.
As prognosticated by Financial Chronicle on Thursday morning, the decks have now been cleared for a complete recast of the board. In what can only be described as a clean sweep, Vishal Sikka also resigned as the executive vice-chairman, while both Jeffrey Lehman and John Etchemendy tapped out as directors. Venkatesan will, however, continue as an independent director for the time being. The company informed the stock exchanges of the same late evening.
"I am happy to return to Infosys, now in the role of non-executive chairman, and look forward to working with my colleagues on the board and in executive management on the business opportunities we see before us and delivering benefits to our clients, shareholders, employees and communities. I thank Vishal for his service as the CEO of Infosys over the last three years and wish him well in his future endeavours," said Nandan Nilekani in a statement.
"Last week, I said that my remaining on the Infosys board was to primarily enable a smooth transition. In Nandan, we have found an ideal leader to manage this transition. I welcome Nandan's appointment as chairman to help guide Infosys to new frontiers of success and wish him, Pravin and all Infoscions the very best in the times ahead," said Sikka, the first non-co-founder CEO of Infosys, who quit last Friday.
Nilekani was one of the seven founders that set up Infosys more than three decades ago and served as its CEO between March 2002 and April 2007. Nilekani left the company in 2009 to head the Unique Identification Authority of India (UIDAI), the Aadhaar authority. Nilekani held the role until 2014, before resigning to unsuccessfully contest Lok Sabha elections on a Congress ticket from Banglore (South) where he lost to BJP's Ananth Kumar. The Nilekani family has 2.29 percent stake in Infosys as per the quarter ended June this year.
It is clear that Nandan has got what he had been hankering for—a clean slate and his own team. Infosys has reportedly invited State Bank of India chairperson Arundhati Bhattacharya to join its board. She is to demit office this October. Infosys already has three women members on its board— Roopa Kudva, MD of Omidyar Network India Advisors, Punita Kumar Sinha, founder and managing partner at Pacific Paradigm Advisors, and Kiran Mazumdar Shaw, chairperson and managing director of Biocon. Only Sinha is acceptable to founders of the three. Fissures run deep and Nandan doesn't want unnecessary baggage as he sets out to fix what is clearly broken.
D-Street continued to rally behind this move by the founders. The beleaguered share ramped up another Rs 18.70 or 2.09 per cent mocking all the brokerages who had pressed the sell button once Vishal Sikka quit as CEO.
Sikka, a former SAP executive, who joined Infosys in 2014, resigned amid what he said were "baseless, malicious and increasingly personal attacks", sparking a massive selloff in Infosys' shares and wiping billions of dollars off its market value.
"Nandan is a global face, he is well-connected, well-networked globally and he has a track record of running Infosys as a CEO," former Infosys CFO V Balakrishnan had said earlier in the day. "What's required is a face which will give comfort, help to restructure the board and hire a new CEO." The entire calculus was dependent on Nandan accepting co-founder N R Narayana Murthy's offer. Confabulations have been ongoing between the two for the last one week. And indications are that he finally agreed subject to having an unfettered role and a board of his choice.
The stock has gained 4.8 per cent in the last three sessions after hitting a more than three-year low on Monday. Murthy and the founder group have clashed with the board in recent months over the company's performance, corporate go?v?e?rnance and the compensation to Sikka. Those tensions ultimately led to Si?kka's exit last week, follo?wed by a $4 billion drop in th?e company's market value and downgrades from analysts.
Representatives of Infosys investors, including Franklin Templeton and HDFC Asset Management Co, called for Nilekani's return to Infosys board on Wednesday. "The recent developments are very concerning to each of us," the group wrote. They said Nilekani's return would restore the confidence of stakeholders including customers, investors and employees and also "facilitate the resolution of contentious issues."
Infosys is struggling with infighting and seismic changes in the industry it helped pioneer. Growth in the technology services business has slowed amid rising competition and automation. Infosys and its peers also get most of their revenue from the US, where the Trump administration is changing policies they have used to service clients.
Nilekani, who has perhaps the highest profile among the founders, may be the most effective means for the founders to regain influence. He ran the company as chief executive for five years until 2007 before becoming co-chairman. He left Infosys in 2009 to join the government to lead the rollout of India's biometric identity programme, Aadhaar. He now plays a prominent role in India's startup scene and has been an active venture investor.
"Besides proven track record as a successful CEO, Nilekani also brings in a neutral image, which will also go well with minority shareholders," said analyst Sudheer Guntupalli of Ambit Capital in a note. He hasn't "sided with either parties of the battle."
Nilekani, who did not respond to FC's query about his return, was initially reluctant for at least two reasons. Infosys faces enormous business challenges, including managing the board, finding a CEO, streamlining management and navigating an increasingly competitive IT services market. In addition, Murthy has come under fierce criticism for reinserting himself into the business after leaving -- and Nilekani may be similarly targeted.
The founder group wants the eventual removal of all but three directors on the 11-member board, one of the people said. But the moves will take time since members are required to oversee audit and risk committees, among other responsibilities, a source close to developments added.