Our writer tackled 150 miles in four days, with just two wheels and almost zero Mandarin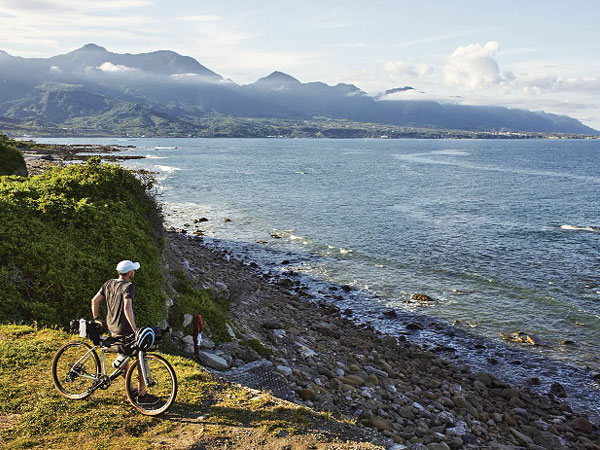 There comes a moment during every great endurance adventure when, no matter how fit you are, no matter how experienced, a simple, penetrating question arises: Why?
During a 150-mile bike trip up the rugged east coast of Taiwan, this question becomes my mantra, hummed under my breath like a Zen koan. The four-day journey takes me from rocky beaches to lush mountaintops, lazy hills to vertical slogs, all in temperatures that barely dip below 80F.
Taiwan is no one's first thought when it comes to a cycling trip—more popular are weeklong excursions with stops at five-star resorts in France's Burgundy wine country or, the Tour de France route. And with good reason: Taiwan, is cut off geographically and diplomatically from much of the world, and there's scant information, in English, about where to sleep and what to eat on your adventure.
But over the past 20 years, I've visited the island many times, often staying for weeks with my in-laws in the capital of Taipei. Everywhere I've been in the country of 23 million people I've found not only excellent food and eye-popping scenery but a uniquely friendly population. There's a chill amiability to interactions, even when I've struggled to make myself understood in Mandarin. The mood— Life is good, take your time, enjoy the small things.
And while Taiwan may be overlooked in the world of cycling, it's known to some as the "Bicycle Kingdom": The island is home to Giant Manufacturing Co., the world's largest bike maker and a billion-dollar manufacturer for brands such as Schwinn and Trek. Other cycling-related companies abound, ranging from artisans such as Quoc Pham, whose handmade leather shoes are stylish and comfortable enough to wear anywhere, to Wohobike, which lets travelers borrow pioneering bags that fit right into a bike's frame.
Dedicated moped and bicycle lanes are everywhere. Bike-share programs operate in major cities such as Kaohsiung and Taichung. Taipei has legalized riding on 240 miles of sidewalk and is in the process of adding 120 miles to its network of bike lanes. On weekends, hordes of riders cruise alongside the Tamsui River for exercise, taking breaks for the occasional cigarette. And at the end of 2015 the country opened Cycling Route 1, a 500-plus-mile network of bike paths that runs along the perimeter of the island. I'm more of a hardened runner than expert cyclist, but what was I waiting for?
A full circuit takes about 10 days. Instead, I chose to ride from Taitung to Hualien, a stretch that friends and strangers alike told me was among Taiwan's most beautiful: the Pacific Ocean on one side, mountains on the other, and gorgeous hotels and fresh seafood restaurants along the way. For my endpoint, I drop a Google Maps pin on the Chihsing Tan Katsuo Museum, a colourful fishing museum.
Taiwan is a land of subtleties—to drink it in, you have to go slowly. The freedom of a bike trip allows you to indulge in refreshing little stops, to more closely observe local curiosities, and to absorb the vastness of the views. A place that's both big and small like Taiwan is where bikes are at their best. The fun of a cycling trip, relies on a complicated and contradictory calculus: When things are too easy, you feel you're not earning the rewards; when it's hard, you regret ever having emerged from the hotel's air conditioning. Why? is a deliciously vicious cycle.
And so it goes for me. When I arrive in the afternoon in Taitung, a four-hour train ride from Taipei, the summer sun blazes over the low buildings. Wohobike has lent me a 9-speed with wide gravel tires, while my photographer, Brad, picks up a 27-speed FastRoad SLR 2 with lights, tools, and panniers from a local Giant office.
Our rides secure, we coast into town to grab lunch at the Green House, a rickety restaurant known for its set meals: crispy mackerel, stir-fried bitter melon, thinly sliced pork belly topped with soy, nuggets of garlic, and a thatch of shredded ginger. This is the kind of food I associate with Taiwan—flavourful but not flashy, delicious even when it's not deluxe, above-average but unconcerned with being A-plus. It's food I want to eat every single day. Afterward, we wait out the heat with matcha slushies and mango waffles at Café Rebecca, a coffee shop located in a cypress-wood house that dates to 1947, when Taiwan was emerging from 50 years of Japanese colonial rule.
Every day, we figure, will go like this. Ride in the ever-so-slightly cooler mornings, break for a lunch that could last hours, and then, around 4 p.m., finish our rolling journey as the sun sinks behind the mountains.
When we finally set off, Pacific waves on our right crash into beaches strewn with tetrapods, the jacklike concrete structures that fight erosion. To our left, clouds snake through the steep green foothills of the Hai'an Range. Ahead, smooth, well-marked roads rise and curve with enough slope for a first day's challenge. We ride through villages where surfboards are propped next to hostels and pause at a fruit vendor's stall for fresh coconut juice. Sometimes we stop just to admire the dependably irregular vistas, where the sea meets the mountain meets the sky. I imagine in the cooler months—November to March—there are many more. As we pass other cyclists we chant, "Jia you! Jia you!"—a Mandarin cheer which means "Let's go!"
As the sun begins to set, we relish the cooler temperature, then start to worry. Shouldn't we be at the Baonon Ocean Villa by now? We are tired and sweat-soaked. Text messages from the hotel's manager blip on my phone: "Are you arriving soon?" Yes, but "soon" turns from 6:00 to 7:00. By 7:30, we are circling the pin on Google Maps. Why? Until—the entrance! A wooden door leads to a stately modern villa with a coffee station, stocked with pour-over devices and siphons, on the ground floor. Upstairs is a two-bedroom suite where the air conditioning is cranked to high.
The manager has left a note directing us to the village's only restaurant, Sea of Clouds, which specialises in lobster. I choose a big one—our waitress, Ms. Li, warns us it's pricey, at NT$1,000 a kilogram ($33 for 2.2 pounds)—which the kitchen hacks into sixths and stir-fries with intensely flavoured scallions. There are also crispy chunks of fried fish, sticky-sweet spare ribs, and morning glory stir-fried with garlic. We fetch tall bottles of Taiwan Beer from a cooler and fill little glasses. An elderly grandma toasts us and guzzles a glass of red wine. When I ask Ms. Li if the restaurant has any kaoliang, the high-proof sorghum liquor that is Taiwan's national drink, she hands me a bottle to take home without charge.
The next three days follow a similar formula: Depart at 6:30 a.m. in the cooler morning air, ride 15 or 20 miles, then stop for a breakfast of scallion pancake with egg and Mr. Brown canned iced coffee. Then another couple hours of riding. As we climb—1,000 to 3,000 feet—so does the temperature, until we can bear it no longer and take a break. Once, we find a stand selling pineapple, sweet as candy and served with a mound of salt. Take-fives like this keep us going—keep us alive. Our bikes are sturdy and hold up fine, though Brad is always worried he'll hit a bump and pop a tire with all the gear in his panniers. I'm glad to have Woho's bags, which keep the bike balanced.
We seek lunch where we can find it. On one lonely stretch of coast, there's but a single cafe serving stewed ground pork on rice, sweet and savory beef noodle soup, and other Taiwanese classics. Another day, we descend into Yuli Township in the East Rift Valley, which separates the Hai'an Range from the more massive Chungyang Mountains. We discover, that the township has its own signature noodles: yuli mian, yellow egg noodles in a clear broth, with thin slices of pork and loads of juicy scallions. Yuli mian have an unadorned purity I admire. "We are noodles," they seem to say. "Enjoy us as we are."
By late afternoon on the second day, we find ourselves riding up to a recently built hotel. Just across the Red Leaf River, down small roads that twist through jackfruit and pomelo orchards, lies the stark and peaceful Silence Manor, 14 miles north of Yuli in Ruisui. Instantly, I fall in love with its grassy lawn, its views of the mountains, and especially its pools, a small one fed by a hot spring and a larger one where I float for an hour staring at the fish and insects cavorting at the surface of a nearby pond. For the first time in perhaps months, I truly relax.
Closer to Hualien, we stay at the Noosa Coast B&B, run by a young, cool Taiwanese couple. Perched above a sandy beach where cows traipse through in the morning, the Noosa is striking in the way its angular concrete lines frame the ocean in light and shadow. The loft suites have unique personalities: Mine is decorated with antique cameras, an old bicycle, and a leather couch, like some bohemian Tokyo pied-à-terre.
Each of these lodgings is better than I'd hoped for: well-managed, beautiful, supercasual. And each morning, as we pedal away, I wish I could stay longer—eat more, relax more, explore more. In fact, I wish I could stop everywhere, learn everything. Soon after, we'll hop the train back to Taipei, our muscles sore, our bellies full, our minds blazing with the struggles and successes of a delightful, delicious expedition. Those memories—whether a sweet pineapple or a simple downhill cruise—will outlast the lactic-acid buildup in my muscles.