,

Friday, 8 December 2017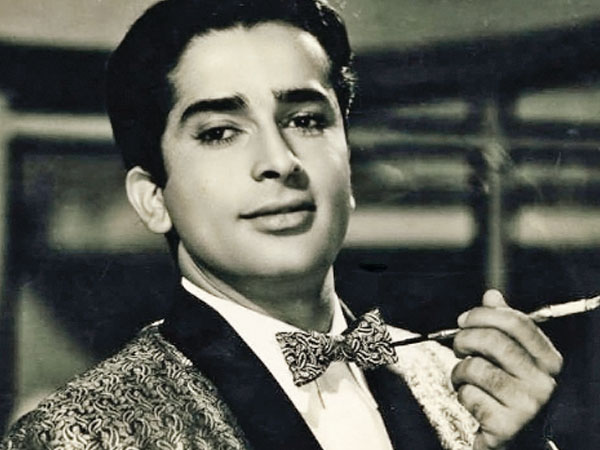 Everybody loved him. Whoever came into contact with him once, would go back with stardust in their eyes. "Hello, I am Shashi Kapoor," he would say, smiling as a fan approached him with trepidation. It would immediately put them at ease, and made for them a memory they would cherish for a lifetime.
Those who do not live in Mumbai do not know how an act of devotion — building a theatre in the memory of his father — would energise the city's theatre community and change Mumbai's culturescape forever.
It was also a monument of his love for theatre, one that he shared with his wife Jennifer Kendal, who also came from a family steeped in theatre. She, her parents Geoffrey and Laura and her sister Felicity toured the country with their troupe, Shakespearana, and performed the Bard's plays. While Shashi Kapoor's father Prithviraj Kapoor, and for a while his older brothers Raj and Shammi, travelled with his repertory Prithvi Theatres; their paths were bound to cross.
As I wrote in the book The Prithviwallahs, co-authored with him, "The young Shashi Kapoor was fated to meet Jennifer Kendal under oddly 'theatrical' circumstances. It happened in 1956 in Calcutta. Prithvi Theatres was having a very successful season at the Empire Theatre which eventually became a cinema hall. Some former Prithvi Theatres troupers, and stars like Raj and Shammi Kapoor and Premnath had come down for a few days to boost ticket sales. As the shows were running to packed houses, the Empire Theatre management extended the season, as a result of which Shakespeareana had to wait their turn to perform at the theatre. They would spend their days performing in school and college halls and some of the members would turn up to see the Prithvi Theatres' performance at the Empire in the evening.
"'We were staying in a place called Ritz Continental Hotel,' recalls Shashi. 'I was 18 then, the assistant stage manager and also doing small roles. It was the prerogative of the ASM to peep through the curtain to look at the audience before each show and see if everything was okay. But one day when I did that, I saw a very beautiful face, which I first thought looked Russian. There had been an invasion of Russian tourists at RK Studio because of the success of Awara in Russia. Since part of the time I was attending shoots as an apprentice at RK Studio, I would often meet these Russians fair, red, good-looking, they used to be. I liked what I saw. I told my friend Tiger to find out who she was. He said that she and some others were guests of the owners of the Empire Theatre. The next day, she was there again and in the same seat, with a group of people. For the next three to four days, they were there for four different performances. It was my cousin Subbiraj who finally found out who she was. They were staying in Sudder Street at Hotel Fairlawn behind Empire. Subbiraj offered to introduce us though he didn't know her.
"'At Fairlawn, the reception area leads to an open dining room. When we arrived at the hotel, they were having their dinner there. Subbiraj introduced himself and us. She looked up and went back to her soup. And I was gaga. I didn't make an impression but she did.
I discovered that this was the company waiting for Prithvi Theatres to get out of Empire Theatre because we had extended our season. I saw a couple of their performances at school and college matinees. That's where I came to know them but not much. She didn't really look at me.
After a few months we came back to Bombay. One day I was doing the lighting at the Royal Opera House for our new production Kisan. It was early in the morning. One of the carpenters came rushing to me and said a mem had come to meet me. I dropped everything immediately and rushed out. And there she was sitting on the steps with her dog. I almost stopped breathing.
She said, "We are here in Bombay and we should meet." She was staying very near the Royal Opera House at Grant Road in a place called Church Mission House, which still exists. Usually I used to get off the local train at Charni Road, but I started getting off at Grant Road, which was a longer walk. From the station I would go to Church Mission House to meet her and then go on to the Royal Opera House. Likewise, she would come and see me. Near the Royal Opera House, is a small dhaba called Mathura Dairy Farm. In 1956, puri bhaji cost four annas, we used to eat there quite often. I had had no girlfriend till then, which was rather unusual for a Kapoor. I was shy and too involved with my work."
Geoffery Kendal 'borrowed' the young Shashi from Prithvi Theatres, and he toured with Shakespearana, memorizing fourteen speaking parts.
It was a fairytale romance and later a marriage of hearts and minds, the like of which is rare in Bollywood.
For Prithviraj Kapoor, or Papaji as he was called, theatre was not a hobby, but a mission. The money he earned from films went into the theatre, and, in spite of being a big star, he was always humble and generous to a fault. He travelled second class with the rest of the troupe, ate simple food, slept on the floor. Since his older sons made their way to Bollywood rather early, Shashi Kapoor stayed with the father the longest and imbibed his love of the theatre from him.
Papaji's voice gave way, and eventually after sixteen grueling years, he had to shut down Prithvi Theatres. But he had a dream for theatre to have a home, where actors and audiences would be comfortable. Shashi and Jennifer Kapoor worked to fulfill that wish. Their marriage, and indeed their lifestyle and the upbringing of their three children (Kunal, Sanjna, Karan) were most un-Bollywood. They were not in the least flashy or pushy. Just like Papaji's sons were expected to make their own careers without any help from their father, Shashi Kapoor's children were also encouraged to be independent. After a couple of films, they all chose to do their own thing. He worried about them, but never interfered in their lives.
Shashi Kapoor's career was flourishing, but he did a lot more films than he would have liked to, because he put money into building the theatre, proving those many skeptics wrong, who believed nobody would come to a theatre in the distant suburbs. He also produced artistic films like 36 Chowringhee, Junoon, Vijeta, Kalyug and Utsav, directed Ajooba himself. The films were all financial drains, and Shashi Kapoor found himself close to bankruptcy. But what really felled the ne'er-say-die star was the death of Jennifer in 1984. She was the centre of his life, and after her passing, he seemed to lose interest in achieving anything more.
There were two great films he did before giving up films altogether, New Delhi Times and In Custody — which fetched him National Awards. After Jinnah and Side Streets in 1998, he stopped acting altogether. He was never one for socializing with film folk, he also turned down all those lifetime achievement awards offered to him.
He travelled, read, watched films, met him old friends, and whenever he was in Mumbai, he went to the theatre to watch plays, after buying a ticket! He patiently watched everything, gave feedback to those who asked, and only once, stormed out of a children's play because the kids on stage were made to dance to film songs.
Eventually, he moved from his South Mumbai apartment to one in Juhu right across from Prithvi Theatre. Most evenings, he would come down and sit in the café outside Prithvi, and chat with the theatre people there and greet with a smile anyone who approached him for an autograph or photo. Fans would be pleasantly surprised to see that such a great star was so approachable. Even when he was ill, he would be wheeled there by an attendant, and he would just observe the bustle outside the theatre. But for those who knew him seeing him so frail was heart-breaking.
Because he was so affable, everyone at the theatre is friendly and helpful. Kunal and Sanjna who took over the management of the theatre after their mother's demise, took it to greater heights. And, like their parents, loved and encouraged theatre. Because of their passion, Prithvi has lasted nearly forty years, and become a cultural landmark in the country.
He has been immortalized by his films, but the theatre community in Mumbai — and India — has much to be grateful for. He was a true gentleman and a visionary; there will never be another like Shashi Kapoor.