,

Friday, 10 August 2018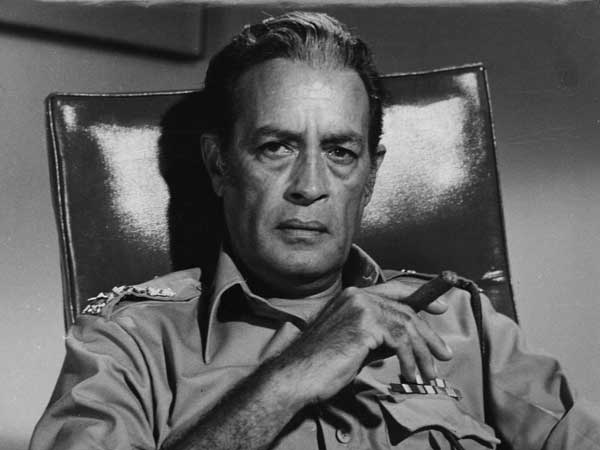 There was a time when the films revolved around various characters. The lead pair alone was not burdened with seeing a film through. That way, the lead stars were not over exposed, maintained their mysticism and the viewer also did not get bored. Especially, since the films in those days were of almost three hour duration. The first thing the viewers noted from the censor certificate was the number of reels; if less than 16, they felt cheated.
Among others, there was a comedian. A villain was a must for the villain was the one who elevated the status of the male lead. Then there were a horde of other characters which kept the screen crowded except for song sequences, when the lead pair was left alone to run around the trees or chase each other in a scenic gardens.
The comedian lost out to big stars like Amitabh Bachchan who also did comedy besides playing the lead. There was a time when special sequences were penned for a comedian. And, Mahmood was one comic actor who would steal the thunder from the leading man. This, kind of made many heroes insecure and quite a few avoided doing films with him in the cast.
Among character actors, it was a talent bank with each artiste having great merit. Some of them were slotted for particular roles according to their personalities. There was Iftekhar who specialized in playing the top cop besides Jagdish Raj whose name went down in the Guinness Book for playing a police inspector in 144 films! Rehman played a rich man, positive or negative depending on the script. Jeevan was known for playing a loud villain with a distinct style of delivering his lines. Nazir Hussain played a sad faced father while David Abraham played a variety of roles, mostly of pleasant demeanor. Then there was Ajit, aagain with a distinct style of his own. Om Shivpuri, who was noticed with Namak Haraam where he excelled but could not quite live up to that act thereafter. Then there were Satyen Kappu, Pinchu Kapoor, Utpal Dutt, AK Hangal, Sajjan, Asrani, Ranjeet, Om Puri, Naseeruddin Shah, and the drunk character specialist, Keshto Muherjee, not to forget Rajendranath, who usually played the buffoon sidekick to almost all lead actors. Then there were Mukri and Dhumal, all variously talented.
Amjad Khan created a fan base with his very first film, Sholay while Amrish Pur reigned supreme for a long time. But, the one who became immortal initially as a hero and later as the villain who was so convincing that no family named their son after him was Pran. Thanks to Manoj Kumar who turned this lifelong villain into an adorable positive character first with Shaheed (1965) and later with Upkar (1967). The only character actor to show his evil as well as good side in his illustrious career span. The latter was his true self. Once his image changed, Pran also played some comic roles; the most noted among them being his triple role in Jangal Mein Mangal, Victoria No 203 and some more.
Today, we have some great character artiste. Many of them have emerged from National School of Drama or stage. Those active presently are Irrfan, Boman Irani, Arshad Warsi, Naseeruddin Shah, Paresh Rawal, Anupam Kher, Pankaj Tripathi, Vinay Pathak, Saurabh Shukla, Kay Kay Menon, Annu Kapoor, Nawazuddin Siddiqi, Satish Shah, Sanjay Mishra, Sharman Joshi, Rajpal Yadav, Piyush Mishra, Yashpal Sharma, Pawan Malhotra, Ranvir Shorey, Deepak Dobriyal, Jimmy Shergill, Mukesh Tiwari, Zakir Hussain, Brijendra Kala, Vipin Sharma; all very talented but get limited exposure and when they do get assignments, it is in small films. Rishi Kapoor, Nana Patekar and Mithun Chakraborty are heroes turned character actors.
Similar was the case with female character artistes. Two memorable ones being Nirupa Roy, an eternal mother figure, and Lalita Pawar a lifelong evil mother in law except in few films like Raj Kapoor's Anari and such. The other prominent names were Sulochana, Tun Tun (Uma Devi), Manorama. Dulari was Dev Anand's favorite screen mother while Kamini Kaushal did the same for Manoj Kumar.
Soon, a trend started when the scripts did away with villains. Hurdles, if any, were created by a family member, family or social status or other circumstance. Some examples are Jo Jeeta Wohi Sikandar, Kuch Kuch Hota Hai, Dostana, Qayamat Se Qayamat Tak, Dilwale Dulhania Le Jayenge, Dil To Pagal Hai to name some.
The Rajshri banner did away with the concept of villain altogether when Sooraj Barjatya took to wielding the megaphone. They brought back the villain in Prem Ratan Dhan Payo but the film did not work.
Villains are now to be found mainly in underworld or political themes or the Bahubali films with story based in the Hindi belt.
Maine Pyar Kiya followed by Hum Aapke hain Koun..! Hum Saath Saath Hai and, later, Vivah had none or negligible negative vibes. His films had a huge ensemble but no naysayer!
While a villain added excitement to the proceedings and gave the viewer his money's worth when, at the end of the movie, the hero made mincemeat of the villain. Now, probably, with the masses excluded from the scheme of things, and the target audience being the multiplex kind, a villain has become dispensable.
But, where are the character artistes? More characters in your script make a film more interesting to watch. It gives a film a solid body. And, as for comedy, nowadays, a film is classified as a comedy and the lead actors do the needful; Dostana, Munnabai, PK and such, for example. As for the smaller canvas films, the examples are many like most of Irrfan Khan films, all romance and shaadi films (like Sonu De Titu Ki Sweety, kinds), the Fukrey franchise and so on.
A measure of how busy the character artiste were earlier was how busy their costume designers were. (Nowadays, there are no specially designed costumes for them.) While the top stars had their favourite designers like Kachins or Bada Saab, most of the character artistes preferred Madhav Mens Mode. As the character actors did more than one film at a time and required various changes, often an actor's date had to be adjusted according to when his costumes would be ready! This did not happen with big stars. May be the ego prevented them from going to the same designer who the other top actor preferred!
@ The Box Office
*The week past saw three new releases none claiming to be mass appealing. While, Fanney Khan and Mulk had veterans Anil Kapoor and Rishi Kapoor, respectively, to bring footfalls, Karwaan counted on Irrfan fans. It did not work for any of the three films as the opening day collections for all of them, were dismal. Why this cluttering up of three films with limited appeal in the same week?
*The least one can says about the casting of Fanney Khan the better considering majority of moviegoers, especially on the initial days, is youth and you can't lure them with Anil Kapoor and Aishwarya Rai. To add to that, the story idea, if any, was wonky.
*After a poor opening day, the film had customary rise on Saturday and Sunday but only marginal. The slide form Monday onwards was huge. The film should end its first week with a total of little over 9 crore.
*Mulk too had a week opening day but its improvement on Saturday and Sunday was noticeable as the Sunday figures were double of its opening day. The film maintained steady collections through the new week while also finding appreciation. The film should close its first week with a total of 12 crore or thereabouts.
*Karwaan, a road movie, promised better opening as road movies are quite interesting generally. Also, Irrfan has a definite fan following and his being in the news though not for the reasons one would like. However, with a not so impressive opening day, the film gathered steam thereafter.
*While the film's Saturday figures almost doubled over Friday, the Sunday collections more than doubled. With steady collections Monday onwards, the film should collect about 12 crore in its first week.
*Dhadak added about 4.7 crore in its third week taking its three week total to 71.75 crore.