,

Thursday, 7 December 2017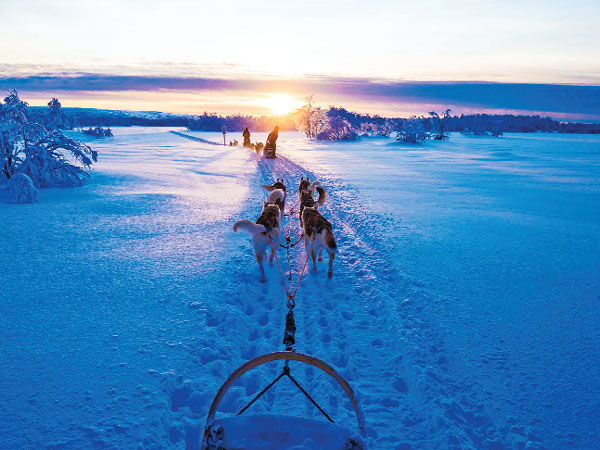 Finnish Lapland may be in near-constant darkness come winter, but all the better to see the dancing lights of the aurora borealis.
This sprawling wilderness where reindeer outnumber humans, offers excellent skiing, snowshoeing, husky rides, and ice swimming while you breathe the crisp, clean air. The country's centennial-year festivities will reach an apex on Dec. 6, Finland's Independence Day, making it not only the perfect season, but the perfect time in which to visit.
Start in Rovaniemi, the regional capital and gateway to the north. The small city of 60,000 people sits on the axis of the Arctic Circle—look for the coordinates 66°34´N 023°51´E painted on the ground—and was designed largely by Finnish architect, Alvar Aalto, after the Nazis razed the area in their retreat from Lapland in 1944. Highlights include the Rovaniemi Art Museum, showing Finnish modern art from the 1940s to current day. There's also the Lapland Chamber Orchestra, which has its own concert hall in a former postal bus depot. A recent addition, next to the Arktikum Science Center, is the Pilke Science Center, an interactive forest exhibition, which includes woods-themed karaoke.