Yet another earnings season of mixed fortunes is about to unfold, with the consumption theme shining again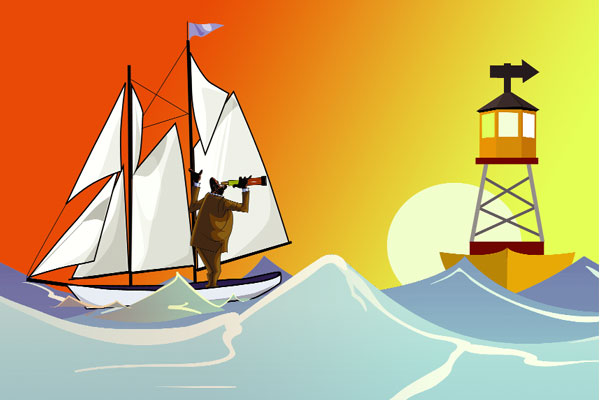 The September quarter earnings season kicking off this week would reflect the impact of catalysts like GST rollout, demonetisation, early festive season buying, higher raw material cost, rupee-dollar exchange rate and monsoon rains.
Tata Consultancy Services, IndusInd Bank and Avenue Supermarts herald the earnings season this time.
Corporate India is poised to post nearly 7 per cent year-on-year revenue growth, going by Crisil Research estimates, while the profit margin may drop by 100-150 basis points. Some industries may even see 150-250 bps squeeze in margins from higher input costs and pricing pressure.
Most brokerages and rating agencies paint a weak picture for banks, IT, pharmaceuticals, cement, fast moving consumer goods (FMCG) and telecom companies.
Consumption-driven sectors like automobiles, airlines, retail and media are seen doing well.
Crisil Research expects the aggregate top line of companies in key sectors—excluding banking, financial services and insurance (BFSI) and oil —to grow by around 7 per cent year-on-year.
"The growth rides on higher commodity prices and a pickup in most consumption-linked sectors. However, it remains range-bound at 6-8 per cent for the seventh straight quarter since the breakout in Q4 FY16 from 0-2 per cent in the preceding four quarters," Crisil said.
Price war in telecom will be a big drag. This, along with slower restocking after GST could trim topline growth, Crisil said.
Prasad Koparkar, senior director, Crisil Research, said, "Had it not been for telecom, India Inc would have grown over 8 per cent this quarter on the back of a 10-12 per cent growth in select consumption-driven sectors such as auto, airlines, retail and media. While delayed restocking post-GST will keep FMCG growth subdued, price wars continue to impact telecom incumbents' revenues. How-ever, higher realisations-led growth in steel, aluminium and crude oil-linked sectors will push up the overall average."
Export-linked sectors such as IT and pharmaceuticals will disappoint again, amidst the rupee's strengthening, a surge in protectionism across the globe and pricing pressure in the US, Crisil said.
With the impact of demonetisation and GST rollout seen waning, market players would eagerly await commentaries on GST and demonetisation.
Most consumer-linked sectors impacted by demonetisation and then pre-GST de-stocking are now showing signs of revival. Growth could perk up in key consumer-linked sectors, ex-FMCG and telecom, to an aggregate 12 per cent in Q2, against an average 6 per cent in the last three quarters, Crisil said.
Kotak Institutional Equities, in its Q2 earning preview, sees 5.7 per cent YoY growth in net profit in stocks covered by it. According to the brokerage house. growth will be led by consumers (restocking post-GST implementation and early/ strong festive season), energy (higher refining margins and large adventitious gains for downstream companies), industrials and metals & mining (higher realisations and consequent improvement in profitability) sectors.
The earnings growth in Kotak's coverage universe would have been higher but for the drag in automobiles (margin compression due to high input costs), pharmaceuticals (pressure in US revenues due to lack of meaningful approvals) and telecom (increase in indirect taxes and continuation of hyper-competitive sector activity).
"We expect net income of the BSE-30 Index to decline 4 per cent YoY while that of the Nifty-50 Index to increase 8.4 per cent YoY, led by strong earnings growth in the downstream companies.," Kotak said.
In the IT sector, Infosys results and commentary would be closely scanned given the renewed uncertainty triggered by Vishal Sikka's exit. Some analysts expect curtailed volume growth and margin impact for Infosys.
Commenting on the IT sector, Rahul Jain and Ruchi Burde, analysts, Emkay Global Financial Services, said, "We expect a whole host of factors to drive the financial performance of Tier-I vendors in Q2FY18E. Revenue growth would be strong across players in the 2-3.5 per cent range in USD terms."
"We expect TCS to deliver strong result both on growth and profitability fronts. HCL Tech would see strong revenue growth but its profitability will be affected due to wage revision. Wipro is expected to see a moderate growth of 1 per cent in constant currency terms and decline in earnings growth. Tech Mahindra would see another weak operating performance with flat growth in operating revenue and decline in EPS," they said.
The automobile sector would put up a good show, though pressure on margins from input cost would be visible.
Raghunandhan N L, senior research analyst, Emkay Global, said on automobile sector earnings outlook, "Revenue growth is expected to be robust primarily due to the early festive season (Navratri in Q2 in FY18 vs Q3 in FY17), strong rural demand and higher realisations. Most automotive manufacturers are likely to report double-digit revenue growth... Even auto ancillaries would mirror this performance. Overall, we forecast revenue for companies under coverage to grow by 15 per cent YoY."
In the BFSI sector, banks yet again may have a weak quarter on slower loan growth and higher bad loan provisions while NBFCs could do well from festive season demand and capital market buoyancy.
Kotak Institutional Equities, in its Q2 earnings preview for banks & NBFCs, said, "Weak revenue growth led by slower loan growth, net interest margin (NIM) pressure, lower contribution from investment gains and high provisions for bad loans would remain a drag on earnings growth for banks."
"Retail asset-oriented banks are expected to do well. Most NBFCs are likely to deliver strong performance supported by inventory restocking, strong festive sales, normal monsoon and near-normalisation in microfinance activity."
According to Kotak, "implementation of RERA significantly affected business momentum in the real estate sector during the first two months of the quarter, leading to a slowdown in retail housing finance as well. Microfinance business resumed to near-normal levels. Capital market momentum was strong with record inflows to domestic mutual funds and 50 per cent YoY growth in cash equity volumes. NBFCs with strong underlying momentum in 2QFY18 are Bajaj Finance, Bharat Financial Holdings, Mahindra Finance and IIFL Holdings."
Cement company earnings are seen impacted by the monsoon rains. Said HDFC Securities Insti­tutional Research: "Cem­ent companies in our coverage universe are expected to post 13.4 per cent volume growth for 2QFY18."
ICICI Securities said, "Cement companies are likely to report average Ebitda decline, mainly led by cost escalations."
Going by the estimates, it seems yet another earnings season with mixed fortunes is upon us.
raviranjan@mydigitalfc.com