Mutual fund investors have to keep an eye on fund performance for optimising returns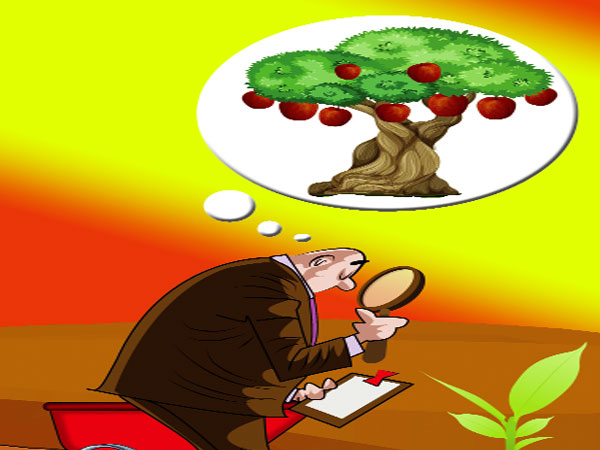 Unlike in developed countries, where retail investors make equity investments largely through qualified professionals or institutions, in India, most investors prefer to take things in their hand and invest directly into the equity market. That is probably a reason equity related advices in India focus on telling investors about which sectors and companies to invest or avoid. The focus on individual stocks is unmistakable here.
But have you ever seen net asset values of various mutual fund schemes flashing on the 24x7 scrolls of business TV channels? Certainly not. This, despite the assets under management (AUM) of many schemes being larger than the market capitalisation of many companies splashed on the mini-screens. Interestingly, in scores of schemes, the number of unitholders are higher than shareholders of companies whose stock movements are analysed by the minute.
Probably we are not far from a course change. In the last one-and-a half year, flows into the equity market through mutual funds schemes have been extremely high. In fact, the size of the money that came into the schemes in one quarter is equal to what domestic institutional investors (DIIs) used to get in a year. These flows are only going to increase, for two reasons. First, the equity corpus of the Employees Provident Fund Organisation (EPFO) is going to increase every year. Second, as long as the government retains the tax and other financial incentives offered on equity investment, the flows to equity instruments are bound to increase. Of course, there could be short-term dips when the market sees a correction; still the average flows will be on the rise, as has been seen in other countries.
Since mutual funds' role in equity investment is only going to expand, it is important to measure and compare the performance of various equity mutual fund schemes. After all, wealth creation or destruction for a huge number of investors would depend on how these funds fare. Mind you, EPFO alone would mean about 4.5 crore investors, over and above the close to three crore demat account-holders India has.
The relative performance of mutual fund schemes has not got media prominence since most people invest in mutual funds through systematic investment plans (SIPs). When investors make a long-term commitment with a fund through SIPs, they bother little about what is happening to their money, or to compare the scheme with peer schemes or the benchmark the scheme is tied to.
There is nothing wrong in investing through a SIP; probably it is one of the best ways to take equity exposure for an ordinary investor. Only that if he is putting his money into a non-performing scheme, his returns would be relatively low. The choice of scheme, thus, makes all the difference to the final return one gets from a SIP. For an investor, it is critical to make the right choice, and once made the choice, to review its performance at regular intervals against the benchmark index.
Given that equity indices are running at record highs and valuations are going up with each passing day, it is all the more important for investors to track their fund performance to esnure optimum return.
This brings us to the question of how to evaluate a mutual fund's performance. Mutual funds say statistical tools are available to measure the comparative performance. But retail unitholders are seldom so savvy to handle those formulas. There has to be a simple way of back of the envelope calculations to figure out whether the money is being managed in the manner it is supposed to be done
Before we delve into that, it is essential to understand why one's money is being invested into equity mutual funds. Usually, a person invests in a mutual fund for any or all of the following four reasons. First, one genuinely wants to own equity assets but does not know how to select companies that give the best returns, so the money is entrusted with a mutual fund for professionally managing it. Ideally, this should be the prime reason in most cases, but in reality, this is not the prime reason.
Second, the person has a tax saving compulsion. A large set of investors join mutual funds for this reason, mostly towards the end of a financial year. Third, and perhaps the biggest reason, is lack of savings and investment avenues in other asset classes. Perhaps this is the real cause behind the surge in flows to domestic institutional investors these days. There are chiefly four asset classes—equity, commodity, real estate and gold—in which a retail investor can invest. At this point, equity is the only asset that has given good returns in the last four years; the rest all failed to take care of even inflation.
The fourth, one suspects the biggest reason for investing in mutual funds now, is the bull market and the notion that stock investors are minting money. No one wants to be left out of this run.
However, if you are investing in equity as there is no other place to put your money in, then you must be the one doing the maximum hard work by regularly reviewing the performance of your scheme. For, at some point, the other asset classes will come back into the game and then your money will have to be shifted from equity to the other asset. So, constant vigil is required from this class of investors.
Now, how to measure the performance. Regulation requires every mutual fund scheme to have a benchmark index to compare its perforamnce with. So, the simplest way is to check how the scheme has performed against the benchmark. In a bullish market, every scheme easily does better than the benchmark and then goes to town with it. But the real test is the scheme's resilience in in a bear phase. In such a phase, if the differential between the returns over the benchmark is just enough to take care of the cost being paid to the fund manager, or asset management company, then what is the point in investing in an active mutual fund scheme? You might gain as much or more by investing in a passive scheme, like an exchange traded fund (ETF).
A more critical measure is how the mutual fund weathered the bear phase. Has the fund manager been able to protect your wealth? So, before investing in a scheme, look at how it has performed against the benchmark during a phase of market correction. Only if the scheme had fallen less than the benchmark is it worth investing in. After all, you pay a fee to the fund manager not just for giving you better returns but also for lowering the risk of a wealth erosion.
One way to decide whether your fund manager is capable of being entrusted with your long-term money is to check the cash levels of a scheme. If a scheme had a lower level of cash during a corrective phase, it means that the decline was used by the fund manager to invest more with a long-term view.
Similarly, also check the cash level near the peaking of bull run. If the cash level is high, or increased during this phase, it means the fund manager has the ability to sell when the valuations are high and save the money for buying in a corrective phase. The cash level chart reflects the ability of a fund manager to cut out noise during the highs and lows of a market and make mature investment decisions.
Of late, many fund houses have shut some of their schemes for new subscription. Probably, those are the more honest ones in admitting that they find the valuations high and don't have the ability to figure out whether or not to buy a stock for incremental gains. A unitholder should value this honesty, as this makes much difference to a scheme's long-term show.
A long-term solution to the issue of evaluating fund manager performance will come when fund of funds make a mark in India. The time is ripe for such funds to flourish. Fund of funds just select the best performing schemes and put its money into them. This is a highly professional job that takes away much botheration for the ordinary investor.Still, why only very few asset management companies offer such fund of funds in India? Maybe, by doing that, a fund would be forced to accept that some of its own schemes are not performing as they should or that others are likely to do better than them.
Today, even with fund of funds, there is suspicion that some of them must be getting a cut from the fund houses they invest in, directly or indirectly. So, till the time the Indian market reaches a stage where an ecosystem of reliable funds of funds exist, retail unit-holders will have to the hard work on their own.
rajivnagpal@mydigitalfc.com
(Rajiv Nagpal is consulting editor, Financial Chronicle)