An unprecedented line-up of IPOs has left investors spoilt for choice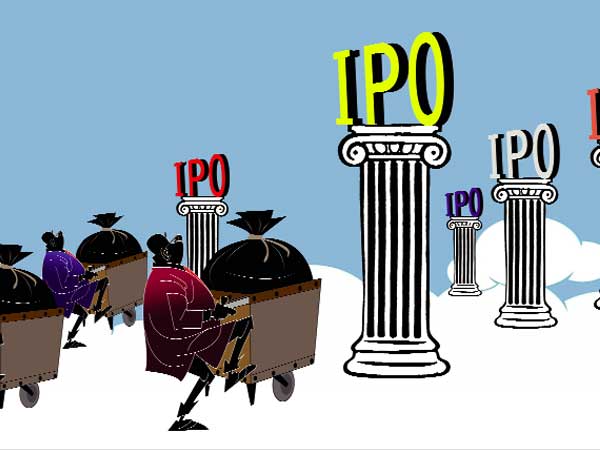 Never have been investors so spoilt for choice like in this month. And the choice is going to get harder, as a series of initial public offerings (IPOs) are opening back to back in the next 12 days, for listing both on the main boards and the SME Exchanges.
A financial year that has seen a flood of public floats, on the back of an extended bull run, will come to a glorious end soon, with a projected mop-up of more than Rs 15,000 crore from IPOs in March alone. That would take the total gathering of this financial year to a more than Rs 82,500-odd crore. The next two weeks will see as many as ten IPOs vying with each other to raise between Rs 30 crore and Rs 4,473 crore.
The last large IPO, concluded last week, of Bharat Dynamics, the country's sole missile developer, was subscribed 1.30 times— not a bad feat considering that the public sector firm's issue came in the midst of competing public offers and a correcting market.
Two more state-owned companies with unique product profiles, Hindu-stan Aeronautics and Mishra Dhatu Nigam, will enter the primary market this month.
The coming weeks will also see two mega issues of Rs 4,000 crore and more, hitting the market, while another IPO of a similar scale is already open.
The crowded IPO line-up is leaving an impact on the secondary market as well. When the Sensex fell by 1.51 per cent on Friday, part of the blame was firmly placed on the IPOs.
Hemang Jani, head-advisory, Sharekhan, said, "Our stock markets are under-performing due to a combination of factors like big IPO pipeline, uncertain political scenario and risk to earnings growth next year…We expect the markets to remain a bit soft given these headwinds."
The latest to join the IPO line-up are Lemon Tree Hotels, on the main board, and Dhruv Consultancy Services, on the SME platform.
One reason for the IPO rush is that the companies have a deadline to beat. Their public issues have been approved by the Securities and Exchange Board of India for the current financial year, that is 2017-18. If the issues are not floated by this month, the companies will have to re-apply to the Sebi for permission, a cumbersome process.
Mega issues
The Rs 4,220-crore public issue from the fighter aircraft and helicopter manufacturer Hindustan Aeronautics (HAL) has opened on Friday.
Centrum Wealth Research recommended investors to subscribe to the issue, saying, "the company has no listed peers engaged in the similar line of business. HAL's business is cyclical in nature as revenue recognition depends on a certification process (acceptance and delivery of products by customers) which generally takes place in H2 due to favourable conditions for flight testing. Hence, valuation on H1FY18 annualised basis looks high, although, the same looks reasonable on FY17 (post-dilution basis).
"With an aim to be self-reliant and to reduce the dependence on imports, the government is focusing on indigenous defence manufacturing. We believe this would give rise to a host of opportunities; and HAL, being the largest DPSU in terms of value production, could be a key beneficiary. Given the growth prospects, investors can subscribe to the issue from a long-term perspective. It must be noted that, owing to the current market volatility listing gains may be capped."
Bandhan Bank's IPO, which aims to raise Rs 4,473 crore, is the biggest this year. The Kolkata-based microfinance institution, founded by Chandra Shekhar Ghosh, transformed itself into a bank in 2015 after RBI awarded it a banking licence.
Bandhan Bank is the largest player in the micro-finance space. "The bank has the largest overall gross micro-banking asset portfolio, with Rs 213.8 billion as of March 2017. Amongst the banks (private as well as public), the outstanding loans given by Bandhan Bank is more than three times higher than its closest competitor, the State Bank of India," said HDFC Securities in a review.
Bandhan Bank began operations on August 23, 2015 with 6.77 million customers and 2,022 doorstep service centres (DSCs) from its micro loan business, as well as 501 branches and 50 ATMs that it established for its general banking business. The bank has since grown and as of December 31, 2017, it operates in 33 states and Union territories, reaching 11.99 million customers through 887 branches, 2,633 DSCs and 430 ATMs, with 2.13 million customers belonging to its general banking business.
Its distribution network is particularly strong in East and Northeast India, with West Bengal, Assam and Bihar together accounting for 56.37 per cent and 57.58 per cent of its branches and DSCs, respectively, though its focus is to expand across India.
ICICI Securities' Rs 4,016-crore IPO is the third largest IPO hitting the capital market this month. Many of its competitors are already listed on the exchanges, like Edelweiss Financial Services, IIFL Holdings, J M Financial, Motilal Oswal Financial Services and Geojit Financial Services.
But the company feels none of the listed players have business profile and revenue streams comparable to it, though they have one or more business segments common to it.
ICICI Securities believes it is well-poised to reap the rewards of the ensuing digitisation growth and the allied transformation in the Indian savings markets, thanks to its pioneer status, strong brand name, large customer base, wide range of products across asset classes and complimentary advisory services.
raviranjan@mydigitalfc.com