Cleaner balance sheets and better operational matrix would make public sector lenders attractive again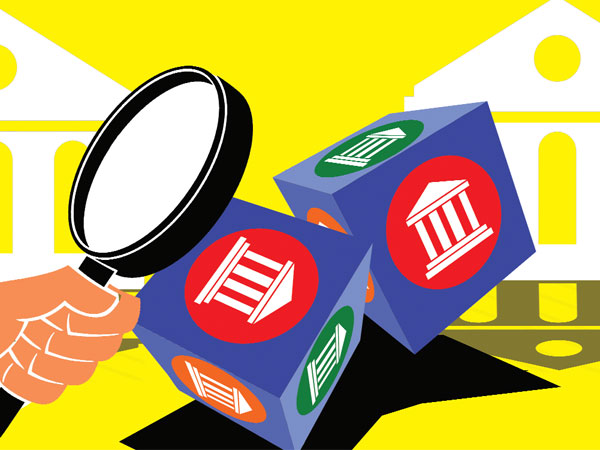 In the last ten years, probably only two years, 2009 and 2013, qualify as being the best years for equity investors. Paradoxically, nothing was going right for the market in those years. Still, anyone who had the guts to invest in equity then reaped the best possible return in the shortest time. The irony is that the best time to invest is known only after the period pass by.
Many quantitative parameters — like multi-year low valuations and consequent high dividend yields — would alert us when a a bottom is getting formed in the market. But no such indicators are available to see the future when extremely negative news surround equity as an asset class. It is tough to keep one's cool in such times.
Headlines will scream how bad things are and the so-called market experts will prophesy how worse will things get hereon. A foreseen drop in valuations will be justified by them, just as high prices were justified weeks before. The only difference is that in a bull run, hope is the basis of justification and in a bear market, fear is the basis of justification.
Look back at the news flow in the first half of 2009. Global financial crisis had just unfolded and growth had dropped across the globe. In India, an election was looming with fears that the left parties would once again have a say in government, corporate earnings had dropped and macroeconomic numbers were getting worse with each passing month.
Cut to 2013, the rupee was under severe pressure, corporate bottom lines were under stress, even consumer companies were reporting poor numbers, not to speak of ever worsening macro numbers. Declining IIP, rising inflation, flaring oil prices--above $100 a barrel--and the twin deficits that forced the government to raise dollar resources via bonds were all coming together. Experts then predicted that the moment the US start unwinding its quantitative easing programme, things would turn appaling for the emerging markets. It is difficult in invest then, as it is tough to think that things can get better.
Now, in 2018, when indices are near their all-time highs—minus the last five weeks of correction—and the overall mood is still bullish, ironically, it is difficult to find a sector from the perspective of investing, with a three-to-five year horizon, that is.
Let us now focus on the banking sector, especially the PSU banking space. There things are pretty much similar to what it were in 2009 and 2013. All that can go wrong is going wrong in that sapce. For the last many quarters, bad loans had been rising in the banking system, even in some private banks known for their prudent lending.
On top of the NPA woes comes out the Nirav Modi scam, adding operational risk to the litany of troubles in the sector. Every second day a bank would confess to an exposure to Nirav Modi or his kin-run Gitanajli Gems.
Things are likely to get even worse for the banking sector in the next two quarters at least. Last month, the Reserve Bank changed the rules of the game; all those so-called restructuring done under S4 and other schemes, which were more ever-greening of books than debt resolution, have now come to a halt. This will make the NPA mountain even bigger. Even the banks which had been aggressive in making provisions could show elevated NPA levels in the next two quarters, along with mark-to-market losses on their bond portfolio.
The other side of the coin is that PSU banking had been the most underperforming stock segment in the last four years. Many large PSU banks now trade close to their lows touched in 2008 post-the global financial crisis. Many also quote at the levels they traded in 2013 before this bull cycle started.
Now let's make an attempt to figure out how PSU banks would look like three years down the line. A couple of weeks before the Nirav Modi scam broke out, the government had issued guidelines that detailed how banks would change their lending monitoring mechanism. The rules for consortium lending, which had been at the root of bad debt, were changed to ensure that small banks do not piggy-ride on large banks and fall in the same pit in the event of a default.
Also, all loans above a limit would be monitored and banks would exchange information so that credit information is available real time. These will make new loans more transparent and less default-prone. Credit offtake has come down of late, as banks have turned wary of lending and borrowers have turned to the bond markets for borrowing. This situation may change by the year-end. Also, banks will have the benefit of recovering many bad loans for which provisions have been made in the past.
So, probably three years down the line, the PSU banks would have much cleaner and believable balance sheets, along with better operational matrix. That will bring down their price-earning multiples to lower levels, making their stocks attractive.
But there is caveat, investors who muster the courage to buy PSU banks should be ready to suffer mark-to-market losses on their investment at least for the next six to eight months. This loss could be as high as 30 per cent to 40 per cent from the current levels. It is possible that the segment may remain an underperformer for a longer time. Since it is difficult to time the market, it is best for the retail investors to start a systematic investment plan (SIP) in PSU banks. If investing in individual stocks is preferred, go for large banks and the ones that have made aggressive provisioning in the past few quarters. When the tide turns, these will be the first movers upward since their balance sheets would be relatively cleaner. As they say, when the news is bad, stock prices are good and when the news is good, stock prices are bad.
rajivnagpal@mydigitalfc.com
(Rajiv Nagpal is consulting editor, Financial Chronicle)