Interview: B Thiagarajan, Joint Managing Director, Blue Star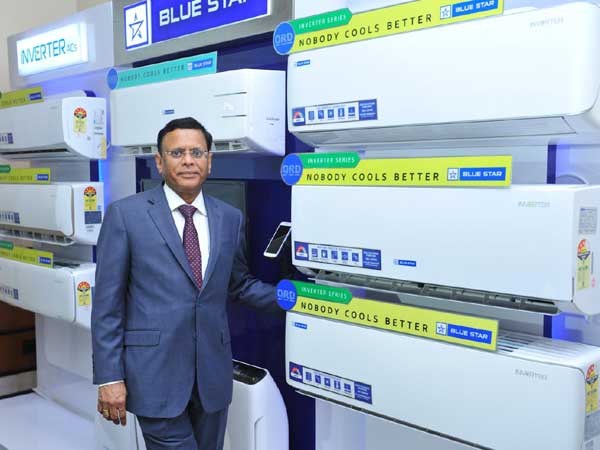 Blue Star, a household name in air conditioners, is also the oldest domestic major in the segment, founded in 1943 by Mohan T Advani. What began as a modest three-member team engaged in reconditioning of air conditioners and refrigerators, soon secured the agency for US-based Melchoir Armstrong Dessau's airconditioning equipment. In 1949, the proprietorship company took on shareholders and became Blue Star Engineering Company Pvt Ltd. It bagged an order from Delhi Metro Rail Corporation worth Rs 104 crore in 2008. Selling products overseas in West Asia, SAARC countries and north Africa, exports are around 15 per cent of its business. As it completes 75 years, B Thiagarajan, joint managing director of Blue Star says a year long celebration has been planned during an interview with Ravi Ranjan Prasad of Financial Chronicle

Take us through the journey of Blue Star, founded in 1943. This year must be very special as the company turns 75.
We are the oldest air-conditioning company in the country. On September 27, 2018, we will complete 75 years and celebrations are planned throughout the year. We have also launched a new logo. To mark the occasion, we have already launched many innovative products and a few more are on the anvil. We have launched a new series of inverter room air conditioners with unique features like 30 per cent extra cooling when needed, extra comfort with precise temperature setting in decimals, extra purification with many filters and extra quiet performance with noise shield for compressors in the outdoor units so that the neighbors are not inconvenienced.
Further, with wifi-enabled Blue Star Comfort Companion APP, from the mobile phone, one can monitor and do the monthly budgeting on electricity consumption of the AC. It is also compatible for voice control applications.
n Please share company's vision and expansion plans. Currently it has domestic manufacturing facilities at Dadra, Himachal, Wada and Ahmedabad and four international manufacturing locations in Malaysia, Oman, Qatar and UAE.
Our capacity will be sufficient for the financial year 2018-19. We need an additional capacity next year. We will soon expand our Himachal and Wada plants. As you may have been aware, we had acquired land in Jammu as well as Sri City in Andhra Pradesh. Since GST benefits are not available, we have decided to surrender the Jammu land. We will proceed with the construction of the new plant at Sri City, which is a planned integrated business city located 55 km north of Chennai on NH 16 in the state of Andhra Pradesh. Sri City is a port city and from here any south Indian market can be reached through an overnight journey, be it Telengana, Andhra Pradesh, Tamil Nadu, Pondicherry, Kerala or Karnataka. Raw material handling will also be easier and less costly.
What do think of 'Make in India' campaign by the government, being a domestic player who is also supplying and handling air-conditioning systems in the overseas market? Can India someday overcome huge import dependence that it currently faces in mobile phones, computers, electronics and white goods space?
Technically Indian companies can very well do it. You need to be globally competitive to compete in the international market, and we are capable of that. Technology is not a problem. You just need to have sufficient volume and risk appetite, as returns of scale is required.
China manufactures around 80 million air conditioners for its domestic market and they have the scale advantage. They manufacture air conditioners like match boxes. India's market size is 5.5 million units. If you want to compete with China, we have to scale up. One other advantage the MNCs have is the low cost of capital. Indian companies will be encouraged to invest if the interest rates are lowered.
What has been the impact of introduction of GST on room air conditioner business? Has it led to big jump in prices for customers buying room air conditioners from pre-GST days?
Introduction of GST had neutral impact on air conditioner industry. GST rate is 28 per cent. Earlier, CENVAT was 12 per cent with VAT of around 14 per cent.
But the prices of air conditioners over the years are rising due to energy label upgradation, which takes place once in two years. Also prices of commodities such as copper and steel have gone up.
The focus on energy efficiency in room conditioner business is high by all the manufacturers these days. The need to save on electricity bills is driving consumers to go for air-conditioners that save on electricity bills but are the new features trustworthy or mere sales gimmick?
Energy efficiency is determined by the Star Label and this is based on testing in accredited laboratories. By law, everyone is bound to follow the regulations and if the product is found to be not conforming to the declared energy efficiency, the model will have to be withdrawn. In the energy labelling programme, India is in the forefront globally.
How fierce is the competition in room air conditioner market? You are one of the leading domestic room air conditioner manufacturers with 11.5 per cent market share. How much market share do domestic players have as against the foreign players?
There are many MNC players if compared with Indian players. I think the combine market share of Indian players must be around 40 per cent and the MNCs is about 60 per cent.
To increase our market share, we will be expanding our distribution reach apart from investing much more in advertising. Our R&D setup is one of the largest in the industry. We are also investing in backward and vertical integration.
We are also selling our products in overseas market – West Asia, SAARC countries and north Africa. Our exports are around 15 per cent of our business.
What is the growth potential for room air-conditioners in India, given the rising living standards?
A CAGR of 15 per cent should happen in the next three years for the industry as a whole.
Your business responsibility report for last fiscal is impressive. What is your view on corporate India's CSR activities?
Our CSR efforts are focused on vocational training, healthcare, hygiene and sanitation and water purification. Blue Star Foundation, a charitable trust is focussed on poverty alleviation, education and healthcare. We keep expanding our CSR activities every year.
raviranjan@mydigitalfc.com