Reshaping Saudi stance towards Israel and Syria are likely to bring far reaching political changes in the region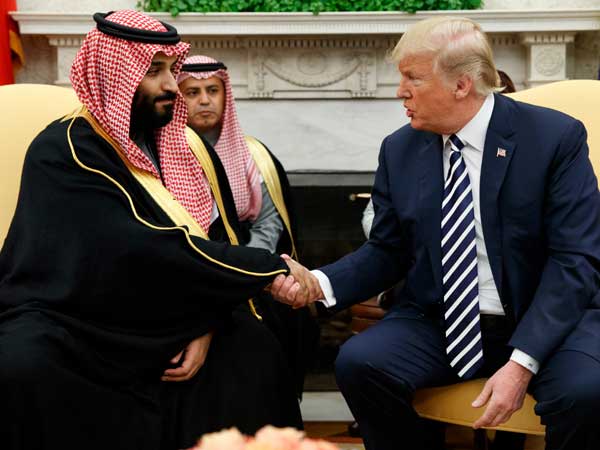 Air India's inaugural flight from Delhi to Tel Aviv on March 22 flew on a route that took the Dreamliner aircraft over Saudi Arabia to Israel. The route for the thrice-weekly Air India flight is a first that considerably shortens the flying time from Delhi to Israel, a country with whom Saudi Arabia does not have diplomatic ties.
No other commercial carrier has been granted a similar concession to enter Israeli airspace from Saudi Arabia. The permission granted to Air India is indicative of India's close relations with Saudi Arabia.
The NDA government has placed a special focus on the West Asian region, which is a major source of energy supplies, an important trading partner and host to a large Indian diaspora.
The permission required a deft job of diplomatic negotiations by New Delhi and could be achieved only because of the warm relations between India and Saudi Arabia on the one hand and India and Israel on the other. Saudi Arabia does not recognise Israel, but there are ample indications that the two governments have had clandestine contacts ever since their common foe, Iran signed the nuclear accord in 2015 with the US and other powers – an accord that both had strongly opposed. Israel has been dropping hints of its covert communication links with Riyadh and it was Israeli Prime Minister Benjamin Netanyahu who first announced that Saudi Arabia had given permission for Air India to fly through its airspace to Tel Aviv.
The Saudi overflight permission is an indicator of changing times in West Asia as Saudi Arabia takes a new turn. Is it meant to test the ground as Riyadh looks for open contact with Tel Aviv? The Gulf kingdom has given signs of opening up under the leadership of Crown Prince Mohammed bin Salman al Saud. The young royal, who is the de facto Saudi leader as the Deputy Prime Minister, Defence Minister and head of the Economic Council, has brought many changes towards economic reforms and modernizing its feudal, ultraconservative society. Saudi Arabia realizes the need to diversify its economy from its over-dependence on a single resource, its huge reserves of crude oil.
In a society known for its ultra-orthodox views, the young Crown Prince has spoken of moderate Islam and initiated economic reforms. He sprang a surprise by arresting Saudi princes, top businessmen and senior officials over corruption charges, announced a public offering of shares of the state oil giant, Saudi Aramco and famously allowed Saudi women the right to drive and some other personal freedoms.
In recent days, Crown Prince Mohammed, has indicated a change in Riyadh's stance towards Israel and Syria. He is on a three week tour of the US with the aim of projecting a new reformist image of Saudi Arabia, building bilateral ties and attracting foreign investment in its modernising and diversifying economy. During the wide ranging tour, he has had a range of meetings from President Donald Trump, senior members of the US Congress, corporate heads as well as Hollywood moguls, while tying up $ 1billion worth of arms deals.
Trump had high praise for the Saudi prince, who had arranged a lavish welcome for the US President in Riyadh in May last year; as Trump said: "we have a great relationship" following the strained ties during the Obama administration. The long foreign tour has been well reported back home in Riyadh, building up an image of the young crown prince that would appeal to the younger generation of Saudis, who form almost half the population of the desert kingdom.
In an interview to the Atlantic magazine, Mohammed said that he believed that "the Palestinians and the Israelis have the right to have their own land. We have to have a peace agreement to assure the stability and to have normal relations." Saudi Arabia has a deep distrust of Iran's expanding influence in West Asia; the rivalry of the two regional powers is adding to the deepening sectarian Shia-Sunni divide in West Asian politics. The opening to Tel Aviv is aimed to gain an ally that shares Riyadh's concerns over Iran.
In another interview to Time magazine, the Saudi leader also said that Syrian President Bashar al-Assad was not likely to be removed. "Bashar is staying," he said, adding that it was in Bashar's interest not to let the Iranians have their own way. The comment was a sharp turn from the traditional Saudi position that insisted on removal of Bashar al-Assad, which reflected Saudi apprehension of Iranian influence stretching across Iraq to Syria to draw a Shia crescent in the region.
India has improved its relations with Saudi Arabia and Israel while maintaining its ties with Iran and Syria. But reshaping Saudi stance towards Israel and Syria are likely to bring far reaching political changes in the region.