A unified Korea has the potential to become a large and vibrant economy - an Asian power house that could pose new challenges for countries like the US, China and Japan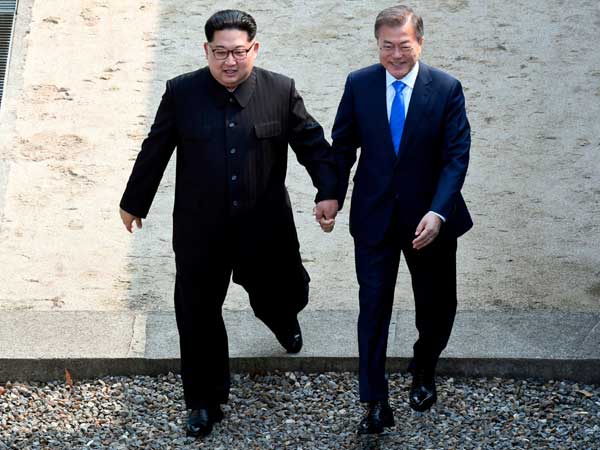 Winds of change have been wafting across Asia following two summits that have dramatically lowered the temperature across the Korean peninsula and the Himalayas. As the leaders of North Korea and South Korea stepped over the ledge that marks their border, they banished the war clouds and sent a message of reconciliation. In the city of Wuhan in China, a boat ride on the picturesque lake marked a reset in the relations between India and China.
After months of sabre rattling and test-firing long-range missiles, North Korean leader Kim Jong-un crossed over to meet South Korean President Moon Jae-in to talk peace and reconciliation. The two Korean leaders confirmed "the common goal of realising through complete denuclearisation, a nuclear-free Korean Peninsula".
Kim pledged to dismantle the Punggye-ri nuclear testing site and move North Korean clocks 30 minutes ahead to align with South Korea and have a single time zone across the Korean peninsula. Though some parts of the US government is still wary of the Korean meeting, it was US president Donald Trump's willingness to "make a deal" even as the US dealt with Pyongyang with a heavy hand that helped create conditions for the meeting. Trump in now planning to meet Kim in late June at the same Panmunjom village where the historic summit took place.
The South Korean President has focused on improving relations between the two Koreas ever since he became President. Most South Koreans are in favour of re-unification, and a survey in South Korea after the summit showed that almost 67 per cent of respondents believed that North Korea would denuclearise and maintain peace. Sanctions had begun hurting North Korea, especially after China, its largest trading partner also imposed some restrictions. Pyongyang's energy trade was affected, both in its exports of coal and imports of petroleum products. Foreign exchange reserves had begun declining, and Kim's economic development policies and market reforms were in danger of getting derailed.
While there is a wave of optimism and hope at the surprising success of the meeting, there are several complicated issues, which need to be addressed. Denuclearisation will be a complicated issue as Pyongyang will have to roll back its nuclear programme while Seoul has the protection of the American nuclear umbrella with US troops stationed in South Korea. But the two halves of Germany and Vietnam, once separated for several bitter decades, reconciled and unified in the past. A unified Korea has the potential to become a large and vibrant economy, an Asian power house that could pose new challenges for countries like the US, China and even Japan.
Trump's own two summits in the same week did not make much headway. A three-day state visit by French President Emmanuel Macron began on a high note with great warmth on display between the two leaders amidst the ceremony of an American state dinner. But Macron's well appreciated address to the US Congress restated his views on climate change, nationalism and isolationism that would have discomfited Trump after the multiple embraces of the day before. Macron spoke of past mistakes, clearly hinting at the US invasion of Iraq, as he called for respect for sovereignty of Iran.
Trump's meeting with German Chancellor Angela Merkel, which followed the Macron visit, was businesslike and without the unease of their earlier encounters. But there was no advance on issues like Trump's rejection of the Iran nuclear agreement that France and Germany had helped negotiate or trade issues between the US and Europe. The US-EU relationship is tense over Trump's drastic policy reversals, including imposing new tariffs, as Europe's exemption from the enhanced tariffs on steel and aluminum are due to expire soon.
At the Wuhan summit, Modi and Xi agreed to deeper and wider exchanges between the two sides for strategic communications, including regular meetings between the two leaders. Both want peace along the border region and a working relationship between the two armies to avoid misunderstandings or sudden flare-ups. This would require quick implementation of the confidence building measures that had been agreed to earlier but not put into practice. The Special Representatives would continue to seek a fair, reasonable and mutually acceptable settlement.
The decision to jointly work on development projects in Afghanistan brings a new dimension in their ties, which found immediate resonance in Kabul. Though the two sides did not mention any specific projects, an Afghan Ministry of Economy official has suggested that the railway line between Afghanistan, Tajikistan, Kyrgyzstan, Iran and China could be one of the projects that India and China could develop together.
Informal summits allow leaders to diffuse irritants, sensitise each other of their concerns and give new direction to the ties. The Wuhan meeting allowed both sides to move forward from the testiness of their relations in the recent past.