The Modi government has established the primacy of 'World Bank' economic template as opposed to the traditional socialist economic paradigm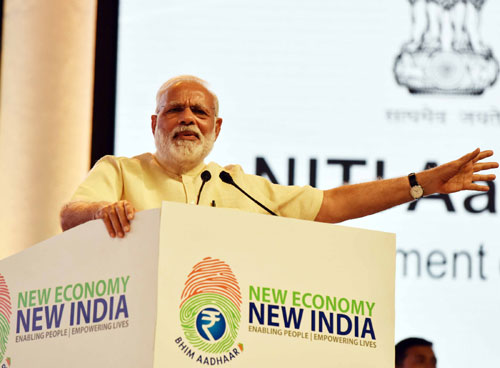 Rarely has a country been at the economic crossroads as India is. In military or party dictatorships, economic policy runs a course dictated strongly by political logic. To justify centralised rule and the lack of freedom, republics are known to pursue financial policies, which have helped them achieve unprecedented growth rates on a consistent basis.
A decision taken at the top – not surprisingly marked by utmost unanimity – has to be followed in letter and spirit down the line where dissent has no place. The results are always encouraging.
Sadly for India, where more than two million people hold elected posts in political and public life, (unprecedented since modern democracy made its advent in the city state of Athens in Greece in 508-507 BC), it is precisely democracy, which is being used as a bulwark against growth and development.
A global project approved by the central government and likely to benefit local people amongst others is shot down merely because the state government does not deem it fit or conveniently brands it 'anti-people'.
The chickens are now coming to roost. After a decade of high growth, demonetisation introduced a year ago and the GST, which came in later appear to have left the economy limp. On Thursday came the news that economic growth had rebounded to 6.3 per cent, reversing five quarters of slow down.
Nonetheless, India does find itself in the throes of a development crisis where investment, particularly Indian, has slowed down. Still, foreign agencies have concluded that India, of the large economies in the world, remains the leading light.
The debate among economists now, as ever, is centered on two classical strands of Indian economics; one, which seeks convergence with the global economic order, the other dictated by traditional Left or socialist rhetoric, which believes that the country has to chart out its own course, independent of any world economic order.
Global rating agencies like the formidable Standard and Poor are not yet willing to upgrade India from its junk status. Last week, it retained India's sovereign rating at BBB – with a stable outlook. "This is the lowest of all investment-grade sovereigns that we rate," it said, while taking a favourable view of reforms, including fiscal consolidation, taken by the government in the past one year.
But on November 17 this year, another global ratings agency Moody's Investor Service raised India's credit rating for the first time since 2004, no mean achievement. Raising the rating to `Baa2' from 'Baa3', it said continued progress on economic and institutional reform will enhance India's high growth potential. Moody's also changed its rating outlook to stable from positive, saying that at the 'Baa2' level, the risks to India's credit profile were broadly balanced. If anything, it is a tribute to the high-growth years of the first BJP-led NDA government of Atal Behari Vajpayee, which was vanquished at the hustings in 2004.
While it is easy to brush aside these assessments as those representing varied interest groups, it is equally a fact that high velocity global investments are tied down to what these agencies conclude. It would be no hyperbole to say that top companies around the world follow their outlook to arrive at their conclusions. By the looks of what the agencies are saying, obviously global investors are now enthused about setting up shop in India.
Figures issued by the department of industrial policy and promotion (DIPP), reveal that foreign direct investment (FDI) into India grew by 37 per cent to $ 10.4 billion during the first quarter of the current fiscal. DIPP said that India had received $7.59 billion FDI during April-June 2016-2017.
As opposed to what is euphemistically described as 'neo-con' economics, there are others who take the view that instead of inviting foreign finance capital to speculate in India's stock market, the government needs to focus on encouraging private and public investment in productive enterprises.
This school of thought is convinced that two decades of policies of liberalisation, globalisation and privatisation have benefited just a few people at the top and agriculture has suffered enormously. They also rubbish claims that a high GDP does not necessarily benefit everyone.
This is a view, which suits India's deeply fragmented political chess board where regional satraps with little or no vision for India, are wont to rail against the 'global economic order', stall initiatives like FDI in retail and stand doggedly by their positions. For instance, some of the biggest opposition to FDI in retail, until recently, had come from politically crucial Uttar Pradesh.
In between several questions remain unanswered – in fact they have not even been asked. Where do you get high technology so critical for economic growth? Where is the money so vitally needed for investment?
Clearly then, what the Narendra Modi-led government has done is to establish the primacy of the `World Bank' economic template as opposed to the traditional socialist economic paradigm, which was the centre piece of planned economics of the PC Mahalanobis school. But then, the Mahalanobis school itself was dismantled by the Congress government of PV Narsimha Rao in tow with his then finance minister Manmohan Singh. Modi is merely continuing and consolidating on that hoary tradition.
ranjitbhushan@mydigitalfc.com