India rolling out the red carpet for Donald Trump Jr is an indication of heightened bilateral relations and the times we live in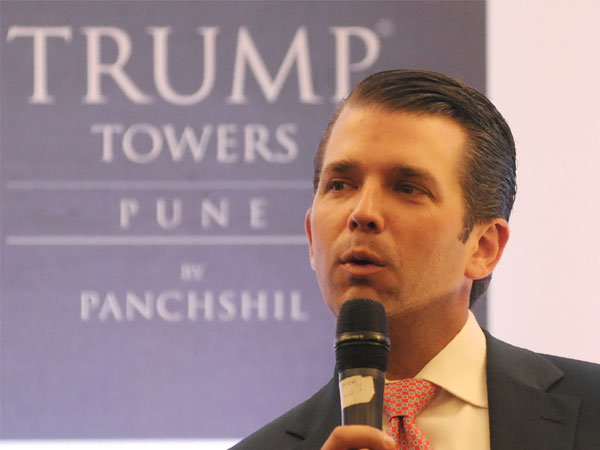 In November 2016, the venerable Washington Post, in a watertight investigation on the man who would become the next President of the United States of America, concluded that "the Trump organisation has more business entities in India than in any other foreign country."
This week's India visit of Donald Trump Jr, the son of the American President, just goes to reiterate that point. Trump Jr is on an extraordinary visit to India, one that combines diplomacy with business. While mainly selling properties tied to the Trump organisation where he serves as executive vice-president, Trump Jr is delivering a policy address on "Reshaping Indo-Pacific ties", if you please.
While American envoys not just in India but everywhere else are known to hawk American products – successive US envoys in New Delhi, for instance, have without inhibition, lobbied for selling Boeing jets, particularly when India was in the process of refurbishing its fleets a decade or two ago – this visit by the American President's son represents a new high.
Even though it has to be said that Indian diplomats are now, more than earlier, encouraged to `market' Indian products in their own, sophisticated ways without sounding too crass. Unlike the days of the old when unilateral or multilateral relations were all that mattered to Indian diplomacy, things have changed in this world where the high tables of politics and finance often become indistinguishable. What, after all, as a serving diplomat asked me, constitutes economic diplomacy?
But it is indeed true that India has rolled out the red carpet for this Trump scion in no uncertain terms. It certainly amplifies the strength of Indo-US relations, which already deep in the years of the Congress-led UPA, are placed on an even stronger keel today and reflects a robustness not in evidence since India became independent.
Observers, however, have been quick to point out that such a trip to any other country – including lifelong ally United Kingdom – would be difficult to conjure. Many other countries would be reluctant to host the US President's son for a visit that includes opportunities for buyers of Trump-branded apartments to pay for meeting Trump Jr.
The Trump organisation features business dealings in roughly more than two dozen countries around the world, which includes Trump-branded condos in Seoul to a golf course in Ireland. The Washington Post research concluded that Donald Trump is "involved in at least 16 partnerships or corporations" in India. Trump Jr himself has admitted that India constitutes the largest market outside the US for the type of real estate deals pursued by their family organisation.
The Trump family is not alone in pursuing this economic détente with India. US commerce secretary, Wilbur Ross, set up a $300 million fund focused on India and bought a textile company OMC India Ltd. In 2008, he bought $80 million in convertible bonds issued by SpiceJet airlines, but sold it subsequently. Goldman Sachs, the previous employer of treasury secretary Steve Mnuchin, boasts of a significant presence in India and has backed Indian renewable energy firm ReNew.
Diplomatic pundits, both in New Delhi and Washington, have been quick to notice that ever since the US President took office, its relations with traditional enemies like North Korea have worsened progressively while with those that the US enjoyed recent periods of relative detente like Pakistan and Iran have worsened. Crucially, traditional allies like the UK, Germany and even Australia, have hit new and previously unheard of lows.
In sharp contrast, the only bilateral relationship that appears to have truly flourished is Indo-US ties. Needless to say, this bilateral equation is being fashioned by two core concerns that face the two countries – China's growing global footprints and the containment of international terrorism. Both resonate strongly with the Trump administration. Add to it arms sales and technology transfers, both of which find takers in the present US administration.
To suggest that any bilateral equation between two great nations is in good measure determined by personal ties between two leaders, would be to state the obvious. Both Modi and Trump have similar backgrounds; they are both conservatives and somewhat controversial, with fractious relations with the mainline media.
To be sure there are hiccups in the relationship. For instance, the Trump administration's immigration policy could seriously impact many Indians working on H1-B visas in the US and their spouses. There are also problems about what the US wants from India – New Delhi is not open to participating in joint maneuvers and operations with US forces and all other kind of behaviour that Washington expects from its closest allies. Yet the deep repositories of Indo-US goodwill, whose roots go back to more than a decade, and a sharp convergence of interests have managed to smoothen the rough edges.
This is precisely why India is rolling out the unprecedented red carpet. It is also, perhaps, no surprise that the visit of the First Son has managed to overtake the visit of the youthful and photogenic Canadian prime minister Justin Trudeau.
ranjitbhushan@mydigitalfc.com