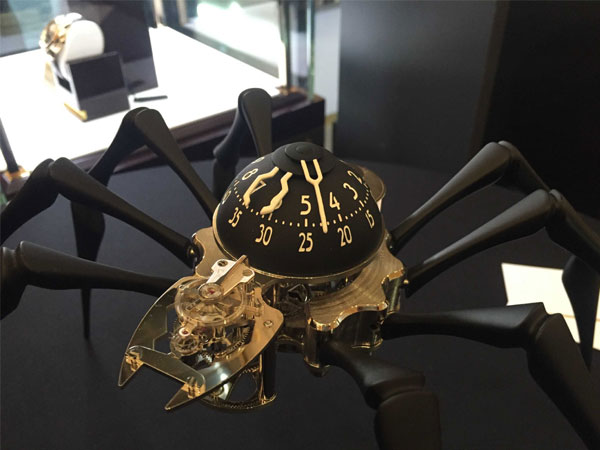 Till such time as reality meets science-fiction, and summer holiday space cruises and weekend moon landings become possible, we only have our imaginations to take us where few have gone before. Or we can arm ourselves with two beautifully crafted space-themed timepieces from MB&F and L'Epée 1839 that may not beam us up to space, but will certainly take our collective breath away.
Destination Moon, a moon rocket themed timepiece is built as per the basic engineering of a real rocket. So, the clock is powered by an oversized winding crown at the base of the rocket, with controls above it. The time display—large white numerals stamped on rotating stainless steel—and settings knobs are towards the top of the timepiece's movement. A screen of almost invisible glass protects the working bits of the clock. A stainless steel astronaut figurine called Neil clings magnetically to a ladder, seemingly going up to the clock movement. Destination moon is made of palladium-plated brass and stainless steel, with silver, black, blue and green options for the landing pods. It is about 41cm tall and weighs 5 kg. The winding mechanism powers the clock for up to eight days.
Starfleet Machine, no prizes for guessing, is inspired by intergalactic space travel. Made of stainless steel and brass, it features MB&F's signature white numerals on stainless steel showing the hour and minutes in the central dome of the spacecraft, while the rotating of the dome and the accompanying radar dish indicate the status of the impressive 40-day power reserve. Retrograde seconds are marked by turret-mounted fly-out laser cannons beneath the central dome. Starfleet Machine is available in steel and dark steel, is about 21cm tall and 29cm in diameter.
Both Destination Moon and Starfleet Machine were co-created by the Switzerland-based MB&F and French L'Epée 1839. Maximilian Büsser & Friends (MB&F for short), describe themselves as an artistic concept laboratory and focus on creating timeless masterpieces—pun accidental.
In their quest to push the boundaries of traditional precision watchmaking, they see their pieces not as clocks but as "three-dimensional kinetic sculptures". The French L'Epée 1839 started out as makers of timepieces and alarm clocks, then moved on to luxury watchmaking in the latter half of the 20th century. In 2014, their 175th anniversary, they launched the Art Line, horological sculptures to "shock, evoke and inspire". Indeed, a perusal of the MB&F and L'Epée online galleries, especially their co-creations, leaves you open-mouthed as you navigate from one stunning creation to another, each one extraordinary to the point of being radical.
It seems inadequate to call them just clocks. Destination Moon and Starfleet Machine, as well as their singularly impressive counterparts, are works of fine art, sculptures of incredible skill and quality. Having one of these in your living room is sure to be a conversation starter. Each model comes in a limited edition of 50 pieces and will set you back by CHF (Swiss francs) 21,500 (about Rs 14 lakh) for Destination Moon and CHF 30,300 (approximately Rs 20 lakh) for Starfleet Machine.