,

Saturday, 12 May 2018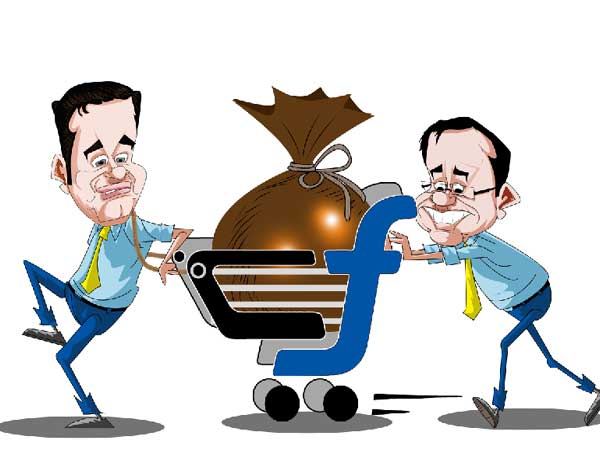 The $20 billion story probably began in the summer of 2005, when two 20-somethings met for the first time on the IIT-Delhi campus. Sachin Bansal and Binny Bansal, then aged 24 and 23 respectively, are not related to each other but come from the same town, Chandigarh.
A year after, the duo moved to Bangalore. Sachin joined Amazon.in as senior software engineer in 2006 and Binny too joined the same team later. It was during this time -- although entrepreneurship was not yet cool then -- that the thought of starting up crossed Bansals' minds. Flipkart was born, as an online bookstore, in October 2007, in a modest two-bedroom apartment in Koramangala, Bangalore. In the first 18 months, they received Rs 10,000 each a month as allowance from their parents. Sachin and Binny pooled in Rs 2 lakh each from their savings to float the venture.
Iconic address
Flipkart now has an iconic address in the city. India's home-grown e-commerce player has recently consolidated its presence in the city by moving into an 8.3 lakh square feet office spread across 30 floors with a seating capacity of 7,387. The company has retained its maiden office and teams often explore this as a retreat location. The e-tailer now employs 33,000 people in multiple locations in the country. It has over 100,000 registered sellers and 21 warehouse facilities across the country.
Big things began happening on the cash front. In October 2009, Accel Partners came on the board of Flipkart with an investment of $1 million. American hedge fund Tiger Global joined the investor bandwagon by infusing $10 million. Flipkart raised a sizeable $1.4 billion from Tencent, eBay and Microsoft, while SoftBank Vision Fund brought in an additional $2.5 billion to its kitty in 2017.
Flipkart began acquisitions to speed up growth. It became the first e-commerce company in India to reach $1 billion in gross merchandise volume and was also the first to raise $1 billion in funding. In short, it chased a string of pearl strategy and made several acquisitions including WeRead, Letsbuy, FX Mart, fashion e-tail player Myntra and UPI-based payments start-up PhonePe -- these apart from picking up considerable stake in Jeeves and ngpay. It also acquired website Mime360.com, and the rights to digital catalogue of Chakpak.com, to broadbase the e-store. Most recently it also made an unsuccessful bid to take over Snapdeal for $800 million.
Customer loyalty
E-commerce, according to the Bansals, is all about customer loyalty and their enterprise focused on winning the hearts of customers and rather than on getting the numero uno tag. Last year, was a landmark year for the e-tailer. It clocked a registered user base of 100 million.
In the hierarchy, Sachin Bansal remained CEO till 2016 when he passed the mantle onto Binny and became executive chairman. It was a post he held until a couple of days ago, prior to Walmart's acquisition of Flipkart. Binny is known to be a super executor, an area where the company miserably failed in its crucial growing up years. Even in 2016, the company had gone through hard times in terms of severe fund crunch and huge market share erosion thanks to constant assaults from archrival and e-com juggernaut, Amazon.
A sense of complacency crept into the board room and the Bansals once candidly admitted it, saying Flipkart would just have to keep the momentum going.
Soon, it was time for things to perk up. As a significant turnaround, Flipkart witnessed a blockbuster festival sale in January 2017. The current CEO, Kalyan Krishnamurthy, the first outsider top executive, was brought in by the company's lead investor, Tiger Global. Binny then became the group CEO. With Walmart's acquisition, Flipkart is valued at over $20 billion and the two founders have become multi-billionaires, making them the rock stars of Indian e-com startup story.
Sachin is likely to fully exit Flipkart while Binny may continue for some more time. Throughout its journey, the company was successful in keeping nepotism at bay. "It has been our goal to make this a 100 per cent merit-based organisation. We've never allowed any of our relatives to join the company," said Sachin.
Accolades came in search of the Bansals from across the world. Time Magazine featured both Flipkart founders on the list of 100 Most Influential People in the world. The Straits Times of Singapore has chosen them for the prestigious '2016 Asian of the Year' under 'The Disruptors' category.
About this recognition, the Bansals said in a joint statement: "Flipkart's innovative steps, aimed at transforming commerce in India through technology, have truly disrupted the market and it makes us proud to be recognised for this achievement. We accept this honour on behalf of all Indians."
Last year, Sachin Bansal along with few other desi start-ups including Ola, MakeMyTrip, Quikr, and Hi­ke Messenger, launched an industry body to lobby for the interests of local ventures also to keep deep-pocketed global rivals such as Uber and Amazon at bay. The irony is that Flipkart has eventually fallen into the jaws of another multinational leviathan, Walmart, aga­inst whom his lobby group has been fighting. Sachin continues to be the founding president and chairman of the lobby group, Indiatech­.org. What's next for Bansals? For a start, they are spending quality time with their families. Sachin and his dentist wife Priya Bansal have a son while Binny and Trisha have twins. As Bansals bask in the glory of the iconic institution they painstakingly created, this is celebration time for the start-ups move­ment in India.