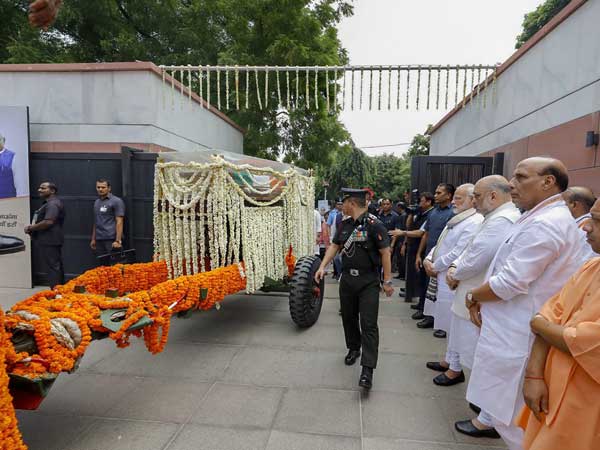 Arun Shourie, former prime minister Atal Bihari Vajpayee's go-to man on many economic issues, believed that the former prime minister had impeccable political instincts but he allowed them to be subsumed by a consensual streak that let other opinions prevail. The subtext to this is that Vajpayee was perhaps not personally to blame for many of the mistakes that he made – they could be passed on to one of his government's numerous coalition partners or to people from within his own party. Yet, when he was voted out in 2004, the sense of shock was palpable. He told Sushma Swaraj, in Hindi, as ballots were being counted, "If things continue like this, it will all be over." He had not seen it coming.
By a strange coincidence, the two politicians who died this week – Vajpayee and former Speaker Somnath Chatterjee – had their careers abruptly ended in a manner that excluded the possibility of a comeback. Their careers, though, offer different lessons in leadership in difficult times.
In Vajpayee's case, he ran a motley army of allies as disparate in their views and motivations as in their need to ally with the Bharatiya Janata Party under the NDA umbrella. On one occasion he had 13 allies in a government that last about 13 months and in another 20 allies in a government that ran its full term. However, his prime ministership and style of political management carried an inherent message of the art of survival – when he allowed other opinions to prevail, it was a simultaneous act of taking credit and apportioning blame, something that only a consummate politician like him could pull off. Others, before and after him, ran coalitions too, but either gave away too much or yielded too little – Manmohan Singh in the first case and VP Singh in the second. It was what made it difficult for allies to criticise him – with the notable exception of the late AIADMK leader Jayalalithaa.
Govindacharya, a man too rancid in his views to be acknowledged by Vajpayee for the way he strayed from the BJP icon's chosen convivial ways, had called the former prime minister a 'mukhota' or mask of the party, hinting that it enabled the Indian right to hide all its warts behind it. Govindacharya paid for his remarks and was banished. Other opponents like Kalyan Singh had their careers cut short for crossing swords with him. But Vajpayee's persona sometimes hid the fact that he never really changed his spots. That showed through in the rousing speech he gave to kar sevaks on December 5, 1992, saying the Supreme
Court had not banned them from performing the service in Ayodhya and it was, in fact, their duty to do so. As Prime Minister, though, he did not allow participation of kar sevaks in the 'shila daan' at
Ayodhya in March 2002 and only Ramchandra Paramhans, now no longer alive, performed it under heavy police escort. It was an act of ensuring the primacy of what he might have called 'raj dharma'. That raj dharma was evident in his relations with the RSS too. Vajpayee clashed with then RSS chief KS Sudarshan and kept him at arm's length when he was prime minister yet did not undermine the latter's position within the saffron family.
Vajpayee wore many hats, and one of them was a fez. It prompted him to extend the proverbial hand of friendship to Pakistan, a step that later counted as among his dour mistakes. This was also the case with handing back Masood Azhar to the Taliban. It was a capitulation of monumental proportions but for that time, the coalition dharma offered the Teflon coating to ride over the problems. In the end, neither of these decisions individually hurt him, but a seemingly off-the-cuff campaign line, insensitive in the face of farm distress, caused him irreparable loss. It was an exhibition of people power that negated
Vajpayee's skills of political survival. His loss marked the end of active politics for him, even though he would come to the Lok Sabha every now and then after that.
Somnath Chatterjee's best moments came in his role as Speaker. He was in many ways a consensus man like Vajpayee as a presiding officer – doing the tough job with a degree of firmness. However, like Vajpayee, again, he had an iron fist under the velvet glove. While Vajpayee's raj dharma was subsuming the personal for the greater good, Chatterjee's dharma was to assert the independence and supremacy of the legislature. He spoke of a lakshman rekha for the judiciary on the issue of the cash-for-questions controversy and refusing to answer its summonses to him. His death revealed that he was respected by people across the political spectrum. It was perhaps tragic that he was done in by his own, expelled from the CPI(M) because he invested more in his role as Speaker than as a party member. It destroyed his prospects for becoming President, a bid that the UPA appeared to be inclined to support, and it ended his political career.
Both leaders stood out among their peers because they had an acute sense of what was required of them. They realised the asymmetry of giving primacy to person and party when they occupied the positions of prime minister and speaker. However, despite one being hemmed in by coalition partners and the other by party apparatchiks, Vajpayee and Chatterjee left behind separate legacies of hope.
ananda.majumdar@mydigitalfc.com