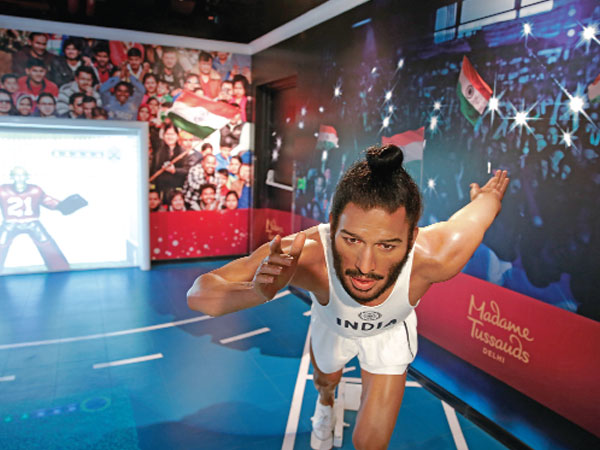 Don't be surprised to hear prime minister Narendra Modi come alive with his speech as you approach his lifelike wax sculpture at Delhi's revamped historic Regal Theatre that now houses Merlin Entertainments' iconic Madame Tussauds.
The India chapter and 23rd edition of this world-acclaimed wax museum opens doors to visitors from Friday.
With a star-studded line-up of Indian and international celebrities from diverse genres, the attraction features 50 incredibly lifelike figures spanning across history, sports, music, film, and politics. Each sculpture, crafted after extensive research by professional artists from London, has cost about Rs 1.5-2 crore.
Madame Tussauds has been a successful tourist attraction in multiple locations starting with London, Las Vegas, New York, Orlando, San Francisco and Hong Kong, and has been making wax figures for over 150 years.
Every statue takes about four months in making along with a team of 20 artists. Over 500 precise body measurements are referenced, real head hairs and countless layers of paints and tints are applied to build up skin tones - to achieve astonishing realism that has kept Madame Tussauds world renowned for over two centuries. Earlier this year Merlin Entertainments while announcing its foray into India said it would invest about £50 million over next 10 years in India.
Entering the venue you are in for a pleasant surprise. Posing as Pawan Kumar Chaturvedi from his film Bajrangi Bhaijaan, actor Salman Khan is seen riding a rickshaw, and you are more than welcome to take a seat and join the actor, or ride by his side in a separate rickshaw.
If you may choose, simply hop on to Tom Cruise's red and black Ducati. Taking a stroll, you may meet Madhubala, Raj Kapoor as Ranbir Raj from Shree 420 and Ranbir Kapoor dancing to Badtameez Dil.
Next in line is none other than Marilyn Monroe donning her ravishing red gown from the movie Gentlemen Prefer Blondes.
The attraction offers interactive opportunities for you to sport Mornroe's wig or Raj Kapoor's hat or get a selfie clicked to create your own movie posters and post them on the social network.
Speaking at the occasion, Anshul Jain, general manager and director, Merlin Entertainments India, said, "This is truly an exhilarating feeling to finally see Madame Tussauds open in Delhi. This will be the 23rd Madame Tussauds attraction globally and be following in the footsteps of our sister attractions. We are all set to give our guests a truly unique experience."
The sports corner exhibits Mary Kom, David Beckham, our very own 'Flying Sikh' Milkha Singh with sprint king Usain Bolt. The section also has footballers Lionel Messi and Cristiano Ronaldo and cricketers Kapil Dev and Sachin Tendulkar.
The next level leads you to the section with national leaders like Mahatma Gandhi, Bhagat Singh, Netaji, Sardar Patel, APJ Abdul Kalam and PM Modi.
Michael Jackson can be seen rehearsing his much loved number "Beat it" pose and Madonna getting ready for her much sought after gig.
Don't forget to groove to the numbers of Beyonce, Justin Bieber, or tap your feet to Bhangra with Sonu Nigam or enjoy Asha Tai's melodious voice, accompanied by tabla maestro Zakir Hussain.
The Madame Tussauds party only gets better with Big B, Katrina Kaif, Kate Winsletand Kim Kardashian sharing a drink with you.
Madame Tussauds will open for visitors for all seven days and the tickets will cost Rs 960 for adults and Rs 760 for children and be much part of Delhi's must dos. New collections will be added on regular intervals, Jain said.
radhika.vashisht@mydigitalfc.com