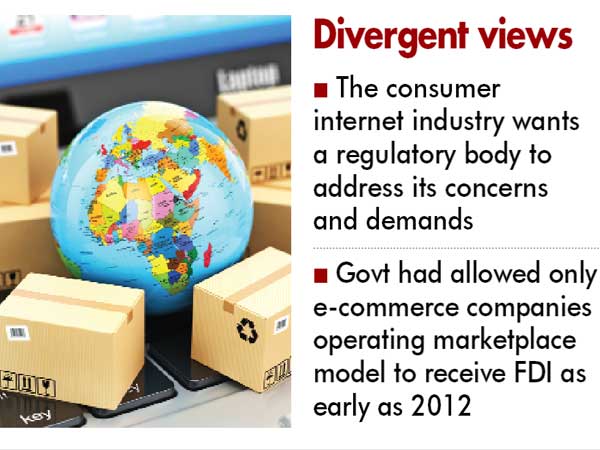 The government had defined FDI-regulations for e-commerce sector as early as 2012 and had later clarified them in 2016 and now in the fag-end of 2018. But compliance has remained the bigger issue all these years.
The consumer internet industry wants a regulatory body not just to ensure compliance but also to address its concerns and demands.
The government had allowed only e-commerce companies operating marketplace model to receive foreign direct investment (FDI) as early as 2012.
In 2016, it further prohibited marketplaces from offering discounts and capped total sales originating from a group company or one vendor at 25 per cent. But e-commerce companies have time and again found ways work around the norms.
On Wednesday, the government further tightened the norms by restricting them from selling products of companies in which they have stakes.
"There has been very limited compliance from the part of e-commerce companies all these years. When the government capped sales from one vendor at 25 per cent, they came out with smaller subsidiaries, which totally would add up to even 80 per cent of the total sales.
"There were restrictions on discounting, but e-commerce platforms worked around the norms and routed the offers through the sellers and kept on influencing pricing. It is difficult for the government to control the way online platforms are doing business," said an industry expert.
"The clarification on FDI Policy for e-commerce vindicates our long-standing position on FDI in e-commerce. It is an acknowledgement that all the major foreign players have been consistently violating the spirit of the policy from day one. Almost all the clarification points mentioned in this policy can be directly attributed to an active violation by these foreign players.
"On one hand, we are happy that this clarification will finally close the backdoor that has been blatantly exploited by these players. On the other hand, it is sad that DIPP and MoCI allowed this to happen for so long. This has resulted in irreparable damage to our SME ecosystem and fair-competition. What remains to be seen now is how effective we will be in ensuring compliance of this policy," said Sanjay Sethi, CEO and co-founder of ShopClues.
"We are looking forward to a level playing field and hope that government is serious about enforcing the directions of the press note," said Kumar Rajagopalan, CEO, and Retailers Association of India.
"The government should appoint agencies to ensure compliance and probe any flouting of norms and initiate action against such marketplaces," he said.
Anil Kumar, CEO and founder of RedSeer Consulting finds that the time has come for consumer internet industry to have a separate regulatory body in lines of Trai or Irdai.
"The consumer internet industry, which includes, e-commerce, food-tech companies, payment apps and edu-tech firms, is valued $66 billion and is predicted to grow to $200 billion by 2020. The industry is growing fast and hence it needs for structured and transparent thought process while framing policies," he said.
According to him, policies should not create new bottlenecks for the industry, but balance out between foreign capital-owned companies and digital startups in the country.
Rajagopalan believes compliance of norms will give Indian companies an opportunity similar to what Chinese firms received initially, which led to building of giants like Alibaba, Tencent and JD.