,

Wednesday, 14 February 2018
Hike in MSP sounds like a cruel joke as farmers face prospects of losing crop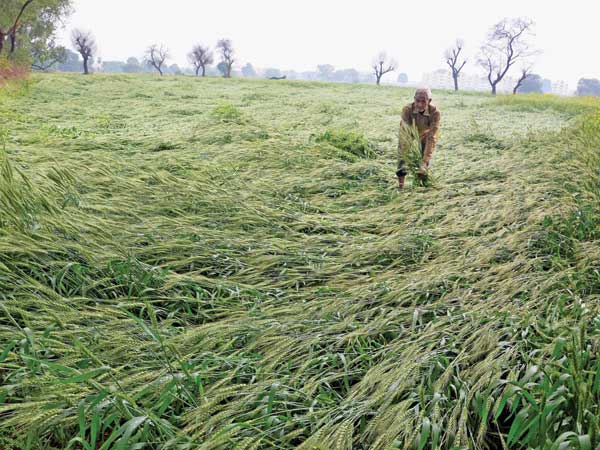 A higher food subsidy bill and a resultant wider fiscal deficit in 2018-19 are staring the government in its face in the wake of hailstorm and rain ruining rabi crops in Maharashtra and Madhya Pradesh. The unseasonal rain has dealt a double whammy—compensating the struggling farmers as well as losing a large amount of rabi produce-- which is certain to make a hole in the exchequer.
The budget has already announced a hike in the MSP at 1.5 times more than the cost of production to farmers. That now looks like a cruel joke on struggling farmers as they are faced with the prospect of losing the crop. Minimum support price (MSP) may sound a fantasy.
The government has already missed the fiscal consolidation path, with the deficit for FY18 pegged higher at 3.5 per cent than earlier target of 3.2 per cent. For the next year as well, the fiscal deficit target has been fixed at 3.3 per cent against 3 per cent targeted earlier.
"Unseasonal rain and hailstorm have damaged crops such as wheat, gram and mustard in about 650 villages of Madhya Pradesh. These villages on an average have about 1,200-1,500 acres under cultivation. While there has been direct impact of adverse weather in these villages, there are many villages where strong winds have also affected the crop especially wheat," said farmer leader in Madhya Pradesh Kedar Sirohi, reflecting government concerns over the extent of damage to crops.
Tricky weather conditions are not the only pressure point for agriculture in months to come. The farm loan waivers by several states to counter the agrarian crisis is also set to add to the fiscal pressure that may put combined central and state deficits to much higher levels. Some states have already announced farm loan waivers to overcome the agrarian crisis. Rajasthan was the latest to join the growing list of states offering farm loan waivers. Five states – Maharashtra, Uttar Pradesh, Rajasthan, Karnataka and Punjab – have announced farm debt waivers.
Farm waiver by five states together is likely to widen the combined fiscal deficit of states by Rs 1 lakh crore or 0.65 per cent of GDP, according to India Ratings & Research.
There is another danger to the already fragile fiscal position due to the untimely rain. Experts think food inflation may accelerate in June-July due to higher MSP as announced by the government. June-July is the time state agencies procure farm produce for sale through the subsidised public distribution system.
Now, with rabi crops getting affected by unseasonal rain, the supply may be severely restricted and increasing the chances of further inflation. Finance minister Jaitley has raising the food subsidy by 21 per cent or Rs 29,041 crore to Rs 1.69 lakh crore for 2018-19. Any unpredictable scenario due to rain will only add to the food subsidy bill. Experts said if proposed higher MSP is implemented in letter and spirit in FY19, even the higher food subsidy provision will fall short.
Now, food subsidy is near to Rs 1.7 lakh crores out of the nearly 2.92 lakh crores total subsidy budgeted by the government. This is around 58 per cent of the total subsidy bill that earlier used to around 53 per cent. While the whole effort in the past was to reduce the subsidy bill gradually, it rose by 11 per cent in this year's budget; driven by food subsidy bill.
Yet another concern is that higher food subsidy expenditure could invite criticism from the WTO. Already under lens, several members, including the US, are demanding that a constraint on food subsidies should be imposed on India. Some experts are of the view that the actual damage could be limited. "The main crop which is going to be harvested soon is wheat. There have been some reports of crop damage in MP and Maharashtra due to unseasonal rains, said Vijay Sardana, an agri-market expert.
"But it would not have much impact on prices in the country. The situation in Punjab and UP is under control.
"The FCI (Food Corporation of India) godowns are full and there is no shortage of wheat. So, I don't see this will have any impact on prices or inflation," said Sardan, who is also a member of the Sebi Commodities Derivatives Advisory Committee.
"There would definitely be some impact on farmers' income in these affected areas. But for that states or the Centre which gave insurance cover for the crop would compensate the farmers. This is the time farmers should be compensated for loss due to unseasonal rains," Sardana added.