,

Wednesday, 10 January 2018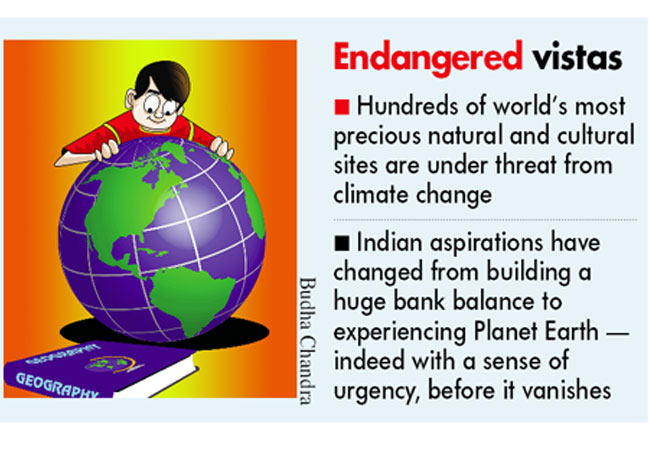 A three-night stay in an ice house in Greenland; a fortnight's expedition to the Himalayas; deep sea diving in Costa Rica or a visit to Great Barrier Reef in Australia to explore coral reef; watching the spectacular Northern Lights in Norway; signing up for a shepherding job in a rural French village for a week; a week-long green-bathing on a coffee plantation in Chikmagalur or joining a tribal in wild honey hunt in the Wynad forests.
Well, the Indian aspirations have changed from building a huge bank balance or acquiring expensive cars, homes, diamonds or flauntable accessories to experiencing the Planet Earth — indeed with a sense of urgency, before it vanishes.
Hundreds of world's most precious natural and cultural sites, including Great Barrier Reef in Australia, Mount Kilimanjaro and Venice, are under threat from climate change. Melting of glaciers in the Himalayas and Africa can wipe out rare animal and plant species.
"Many people have created their own bucket lists of things that they want to do. It's not tourism, but about experiencing the nature, before it is gone," says Bangalore-based Harish Bijoor.
Bijoor is the founder of Harish Bijoor Consults Inc, a firm that tracks multiple domains, including experiential travel.
PK Mohankumar, hospitality expert and promoter of PurpleCloud Hotels & Resorts, says, "India has seen the emergence of a sizeable disposable income population. Experiencing the planet is a priority talking point for many people today."
"It's about experiencing a wide variety of things without further harming the planet. The list includes doing exotic and simple things around the globe. It could even be attending local agriculture fairs or participating in a cultural or religious festival or doing a street food exploration. Because all these things are slowly going away with urbanisation,'' he adds.
As early as 2030, researchers say, the Arctic Ocean could lose all of its ice, destroying its northern community. The impact will spill beyond the region and will scramble weather patterns around the globe, impacting plant, animal and human world alike.
"Overall, the outlook for the future is not so positive with impending environmental issues and man-made disasters. So, we feel a sense of emergency to experience the planet before it is fully destroyed,'' says Roopa and Ramesh, a dentist couple from Bangalore.
Echoing similar sentiments, Vijay Rao, an experiential learner of the planet, says, "Drastic environmental changes, along with significant socio political changes, have completely altered the outlook of the planet. It is impossible to find original India, pure Africa or natural Cuba anymore.''
The planet is being short changed by unscrupulous elements. Everything on this Earth is under some kind of threat and we don't know how long we will have wildlife, forests, rivers, oceans, butterflies and monuments, say Sridevi and Shyam Rao, a travel buff couple. "It is important to have a glance of these precious gifts before they are gone,'' they say.
Ullas Kumar, a naturalist at Deccan Safari, a firm that does responsible wildlife tourism, research and education, says that drastic climatic changes can kill the entire forest, flora and fauna. "Kerala alone has around 3,000 sacred groves, they are critical community lung-spaces that help maintain ecological balance of the locality by controlling pollination and farming. Hundreds of such groves have been destroyed in Karnataka and in other states,'' Kumar says.