,

Monday, 11 September 2017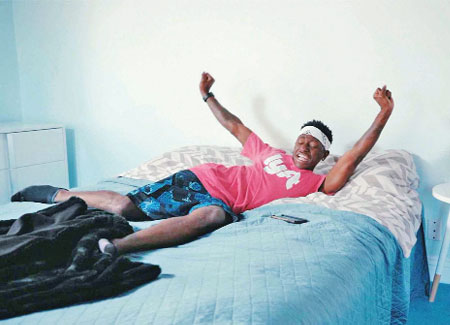 Wes "Wuz Good" Armstrong has almost 700,000 followers on Instagram, enough to get paid six figures a year to promote Lexus cars and Axe body spray there. It's easy, he says, to put products in his comedy and stunt videos for an audience that will still like and comment on the posts as long as they're entertained.
Snapchat makes things a lot tougher. Armstrong has followers there, too, but he doesn't know exactly how many. And because of the way the service works, it's hard for him to track how many people watch the sponsored messages he sprinkles into his posts. To capture the audience for a recent video for Toyota Motor Corp, he had to set an alarm on his iPhone for 23 hours and 59 minutes after the post to remind him to take a screen shot of the number of viewers. He was cutting it close: Like most Snapchat posts, the video disappeared at the 24-hour mark, taking his proof with it. He makes a lot less money on Snapchat—maybe $10,000 a year, he says, if he's lucky.
This is by design. Snapchat's parent company, newly public Snap Inc, says the app is mostly meant to be used for communication among close friends. The implication: It's not designed for the so-called influencers who use carefully edited Instagram photos to get internet-famous enough to hawk Axe. Influencer types use Snapchat anyway, and people follow them anyway, but Snap makes little effort to cater to them. And they're getting annoyed. The number of influencers posting Snapchat stories in the second quarter fell 20 per cent from the first quarter, while Instagram saw an 11 per cent jump, according to data-analysis company Captiv8.
The company doesn't send executives to VidCon, the influencer conference in Anaheim, California, where Instagram and its corporate parent, Facebook Inc, have a heavy presence. There's no special Snapchat team catering to the pitchmen and no easy way for the influencers to tell how many views they're getting, making it less obvious why the Lexuses of the world should pay them. And since Instagram copied Snapchat's "stories" feature, letting users string together videos that disappear after a certain amount of time, "Instagram has taken a lot of Snapchat's swag, for sure," Armstrong says. Snap declined to comment for this story.
Instagram's clone (also called "stories") has made it easier for advertisers to cut Snapchat out of their plans. At last year's New York Fashion Week, marketing agency United Entertainment Group used other services to pay teen girls and college-age women to pitch a large hair-care brand to their peers. "It would have fit right into the Snapchat demographic, but right now there is just so much available on Instagram and on YouTube and on Facebook," says Josh Kaplan, senior director at UEG's influencer-focused division. "It makes it very difficult for us to justify pushing content to Snapchat."
Instagram has catered to this kind of advertising only in the past year or so. Since 2016, the company has made it easier for brands to track the popularity of posts by the influencers they pay and let the brands pay to promote those posts as they would regular ads. (It's also started to indicate more clearly which posts are paid ads.) Captiv8 says the volume of lifestyle-focused daily Instagram stories is growing at 16 times the rate of Snapchat's. Facebook and Twitter Inc, like YouTube, allow some influencers to get a cut of ad revenue from videos they produce.
Snap would be wise to catch up, says Erin Dorr, vice president for digital and social strategy at MSL Group, a PR conglomerate. "Agencies everywhere are just waiting for Snapchat to come out with more functionality and capabilities and transparency for influencer campaigns," says Dorr, whose company
represents Procter & Gamble Co and General Motors Co, two of the biggest advertisers in the world.
But Snap isn't interested, say people familiar with its executives' thinking. As a compromise, the company has started providing viewership data to a handful of popular users who produce posts Snap considers broad or interesting enough to be tagged as "official" stories. Michelle Obama made the cut; most latte-foam artists didn't.
This break with self-promotional social media types is one of the many ways Snap has deliberately eschewed the examples of Facebook and Instagram, despite outside pressure for it to start making more money. Without mentioning the company by name, Snap executives aren't shy about criticising Facebook's obsession with growth during investor presentations and earnings calls, arguing that the service's value has been diluted by meaningless connections and notifications about acquaintances users haven't seen in years. Snap maintains it's focused on holding the interest of a much smaller group of higher-value eyeballs.
However big or small the audience, brands want to know exactly who they're reaching, says UEG's Kaplan, whose clients include Microsoft, Samsung, and Unilever. "It's very important to us to have an apples-to-apples comparison with how we're spending our dollars," he said.
If clients choose Snap, Kaplan says, "we get a lot of screen shots."