,

Monday, 31 July 2017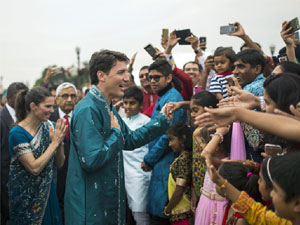 As early as 1970, Ontario in Canada has been known as the 'Province of Opportunity', with Indians establishing a presence there as early as 1903. With a recent wave of economic and policy reforms, business in Ontario is looking very attractive to India.
Investing in Ontario gives Indian capital access to a $20 trillion NAFTA-enabled marketplace, powered by 450 million consumers across Canada, the US and Mexico. As of 2015, this three-country bloc did $1.14 trillion in trade. Concurrently, Ontario is an outpost for tariff-free access to the $17 trillion EU market, home to 800 million of the world's most affluent buyers. These are just two trade deals among policies that will hold India's international trade in good standing in a changing global policy climate.
Agriculture, auto and ICT are among the three sectors, where India is fast becoming a market leader and can look to Ontario to further explore areas of collaboration including world-class research facilities, an abundance of highly skilled workers, generous R&D tax credits and the lowest business costs across the G7 countries.
Bilateral trade
Anticipated to touch $350 billion by 2025, India's core competency sectors of hardware and software have seen cumulative FDI inflows worth $21.02 billion from 2000 to 2016. India's up and coming internet economy, expected to touch $146.72 billion by 2018, and gaming (valued at $890 million, growing 30% year-on-year) will find great resonance with Ontario, considered North America's 'Other Silicon Valley', where over 1,000 tech companies generate revenue worth $20 billion annually. Ontario is a veritable ICT hub, where giants such as Google and Salesforce share space with new startups, all cashing in on demand from the EU, the world's largest importer of telecommunications, computer and information services at $82 billion.
India is the world's second largest food producer, making it a complimentary partner to Ontario, Canada's biggest agri-food sector and the focal point of 3,500 food businesses. There is an abundant supply of eager agri-food industry labour in Ontario, with one in nine jobs in the province specialising in agri-food. Ontario's imports of fish products, grains and tropical products and vegetables from India are valued at $234.9 million, and these strong trade channels offer great opportunity to further build upon.
With a 400-km automotive corridor, Ontario is North America's biggest vehicle producer and home to Chrysler, Ford, GM, Honda and Toyota — the five global auto assemblers. Indian auto leaders, with their focus on cost-competitiveness, can help scale up Canada's market share in the EU — with only 1% of the EU market at hand, there is ample opportunity for aggressive expansion.
N America & ASEAN
Along with five international airports and 15 road, rail and marine border crossings, Ontario has access to the US, the world's largest economy, with which the province does $929 million in daily trade. The province's SME economy alone produces $20 trillion in goods and services annually. Accelerating the pace and volume of investment in Ontario can further India's goals stated in its Foreign Trade Policy, which include increasing the share of global trade from the current 2.1% to 3.5%, and double exports to $900 billion by 2020. Indian multinationals like Tata and Sun Pharmaceuticals have already established sizeable operations here.
Ontario is also the financial centre of Canada, home to the Toronto Stock Exchange (ranking at 7th in the world), Canada's four largest banks and the Canadian subsidiaries of over half of the world's top 10 banks. Many Ontario-based financial service companies have a notable presence in India, including Sun Life Financial, Scotiabank, Fairfax Financial Holdings and Brookfield Asset Management.
And, just as Ontario is the launch point for North America, trade with emerging Asian leader India unlocks Ontario's access to ASEAN countries, wherein two-way trade is valued at USD $79.86 billion. India is a great fit for Canada's Global Markets Action Plan of "economic diplomacy" and a diverse trade portfolio, with its new assertive foreign policy, and a 10-year plan of Rs 1.5 trillion investment on infrastructure projects like power, telecommunications, and urban mass transport.
Looking at infrastructure investment as a share of GDP, India spends even more than Canada (24%) and is increasingly encouraging more private sector and foreign participation in infrastructure projects. Meanwhile, Ontario is planning to invest about $156 billion over the next 10 years, (or more than $190 billion over 13 years, starting in 2014–15) as per its 2017 Budget. As a result, Ontario's real GDP is estimated to increase by up to $925 billion over the long-term because of total infrastructure spending of $155 billion, providing an opportunity for businesses to gain from it. In 2015, trade between the two regions was at $2.4 billion while bilateral trade between Canada and India was worth $7.95 billion in 2016. The deep resonance of business interests and expansion opportunities, and also the large Indian presence in Ontario — the largest in Canada — and similar legal frameworks and democratic political institutions creates a natural connection to support and grow trade and investment with India.

The author is Ontario's Minister of International Trade