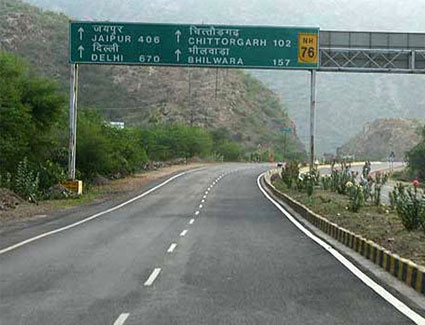 It is an unmitigated disaster. Inexplicably, nobody has an answer to this riddle. The Delhi-Jaipur highway is caught in a time warp, a symbol of time and cost overruns and the typical Indian malaise of a painfully protracted infrastructure build out. It remains emblematic of India's ambitious but failing highway development programme. It stands out as the highway to hell, a staggering testament to everything that can go wrong. A dangerous place to be on, particularly in the dark, completely porous on both sides with wrong side drivers popping up without hint, notice or inkling. You have to drive by instinct and aptitude. With no highway guardrails in place, people crossing is another menace. Potholes, moon craters, bumps, the whole ball of wax act as imponderables in your quest to make your tryst with your destination. Even the stretches that are functioning don't have smooth international quality roadways. It is a shame that Jaipur, which is part of the Golden Triangle of tourism, doesn't have an accessible highway, making the journey arduous.
It figures when you read that as many as 322 infrastructure projects worth Rs 150 crore or above have seen a cost overrun of Rs 1.71 lakh crore due to delays and other reasons by March 2017. "Total original cost of implementation of the 1,231 projects was Rs 15.59 lakh crore and their anticipated completion cost is likely to be Rs 17.31 lakh crore, which reflects overall cost overruns of Rs 1.71 lakh crore (11 per cent of original cost)," a flash report by the Ministry of Statistics and Programme Implementation stated recently. The flash report provides details on the status of the 1,231 central infrastructure projects that cost Rs 150 crore and above. In March, 2017, out of 1,231 projects, nine were ahead of schedule, 324 were on schedule, 327 were delayed and 322 projects showed cost overrun.
Then if you get into the granularity of it and look at roads specifically, the record is woeful. Not only has the pace slowed, but also the sector continues to be bogged down by old issues of land acquisition, tepid investor response, environment and legal hassles. The same set of problems had constrained road development during the previous UPA-II government as well. The NDA record, it looks, is no different either. The National Highways Authority of India (NHAI), the apex agency tasked with highway building, could complete only 1,417 km of highways during April-November period of FY17 against the full-year target of 8,000 km. The challenges are basically the same. Land acquisition and environment-related issues are delaying the projects. Even the response from the banking system for the hybrid annuity model (HAM) is still very modest. Also, the other major plan to monetise completed highway projects is yet to take full shape.
Cut to surface transport minister Nitin Gadkari, who has a track record of being a finisher. He was responsible for building the Pune-Mumbai Expressway, but he too seems to have been defeated by the Jaipur-Delhi highway. In March this year, he said that the Delhi-Jaipur express highway would be built at a cost of Rs 18,000 crore. The advanced cement-concrete 225-km express highway will be the second in the country after Mumbai-Pune express highway and will pave the way for reaching Delhi from Jaipur in just one-and-a-half hour at 125 km/hour speed, the minister said after laying the foundation of road construction works in Dausa district. Laughable is all I can say. He went on to say that the Agra-Delhi is also considered express highway, but it is not as per the standard. After Mumbai-Pune express highway, Delhi-Jaipur will be the second express highway in the country. I don't think, he has been on the Yamuna Expressway. He further said that the Haryana government has given alignment permission and if Rajasthan help in land acquisition and road alignment permission, the work can commence this year itself.
Rewind to February, 2016. Widening of the Delhi-Jaipur National Highway is almost over and it will be inaugurated by March, Union minister Gadkari said. "Construction was stuck for several years… But the NDA government expedited work and now only three or four flyovers on some stretches are to be completed," Gadkari told the media at the All India Regional Editors Conference. "We will inaugurate it by March. Earlier, it took eight hours to travel from Jaipur to Delhi by road, but now it will be over in three hours." Famous last words. Now we come to this writer, experiential user of the same highway over the weekend. That one returned in one piece after the round trip is a miracle, not because of the quality of the road, but the driving skills of the chauffeur. For the last 18 years, one has been travelling to Jaipur periodically and one simply cannot understand what it will take to actualise this toll road. And why is one paying toll on this road anyway? Kotputli, Behroor, the final stretch leading to Kerki Dhaula toll plaza from the Jaipur side are perfect examples of life threatening escapades. Khatron Ke Khiladi, anyone, real time!
As the Editor of Mail Today, I got a story commissioned on what prevented closure of this highway project? Why these endless delays and absence of commitment on the part of different regimes. A reporter and a photographer were deputed to take the road test. The July, 2014 report was alarming — A nightmare from Delhi to Jaipur: NH-8 project passed its deadline in 2012, but still needs two more years to become fully operational. Although the flyover at Rampura has been almost completed with finishing works taking place on one side, the flyover at IMT-Manesar Chowk is yet to be finished. While the three pillars of the flyover at IMT-Manesar Chowk were constructed three years ago, the construction of flyover is yet to start. Adding to the headache, the expressway concessionaire failed to assess the situation at densely populated areas in Manesar and Bilaspur. While the road beyond Daruhera is by and large operational with six lanes, the stretch till Shahjahanpur toll plaza is dotted with potholes. Construction work of 35 km from Dharuhera to Khera border has been outsourced to a Chinese firm. An official of the construction firm claimed that the stretch would be completed in seven to eight month time. Meanwhile, land acquisition still remains a challenge for the concessionaire. A little over two years ago land acquisition behind Manesar was incomplete at various points. The Road ministry, meanwhile, is exploring financing options for the expressway project as the cost of land has trebled after the new land acquisition law came into force earlier this year. Three years later, nothing has changed, in fact, it has got progressively worse.
Fade to Black
Now we come to March 2015. The much-delayed Delhi-Jaipur Expressway would be completed by June, Road Transport and Highways Minister Nitin Gadkari said. He also said that the Centre is ready to build four bypasses by December for important towns if Rajasthan government offers land. "Finances for this crucial highway project, which has already been delayed, have been arranged. Eighty-five per cent of the work has been done and the project would be completed by June this year," he said. The Delhi-Jaipur highway project has been delayed due to various reasons including land acquisition and contractual issues. The project cost of the 272 km highway has also shot up from Rs 11,750 crore. The vital road caters to six of Jaipur Assembly constituencies — Kotputli, Bansur, Viratnagar, Shahpura, Amer and Jamva Ramgarh. The building of four bypasses to facilitate movement of villagers, besides early completion of six-laning of Gurgaon-Kotputli-Jaipur section of NH-8 is crucial. "Of the 57 structures to be completed, which include flyovers, vehicle underpasses and pedestrian underpasses, 46 have already been completed while seven more will be done by the end of June this year. The work for the remaining four structures is also under progress and will be completed soon," an official statement had said in March 2015. Bypasses needed to be constructed at Behror, Kotputli, Paota and Shahpura as a long-term solution and Rajasthan government was to be approached for making land available for the purpose. As per the NHAI officials, the cost of the four bypasses of 10 km each would be around Rs 600 crore.
Motilal Oswal Securities Ltd said in a 22 March report: "In FY17, the NHAI has awarded road projects for 3,000 kms (8.2km per day) and constructed 2,350 kms (6.5km per day). This is well below its initial target of awarding 15,000 kms and constructing 8,000 kms. However, our channel checks suggest that momentum should pick up significantly in FY18," The draconian land acquisition bill passed by the UPA and signed off on by the BJP as the principal opposition party will de-industrialise India. Not only has it made acquisition of land prohibitively expensive, but it has created consternation all around. The government missed its FY17 target of awarding road projects by a wide margin. Of its target of 25,000 kms of roads projects, which included projects from NHAI and Ministry of Road Transport and Highways, the government managed to award only 6,300 kms or a little over 25%. NHAI awarded 3,100 kms or 31 per cent of its target of 15,000 kms length of roads, while MoRTH awarded 32 per cent of its total target length of 10,000 kms for FY17. The slowdown was on account of financial closure of fewer than anticipated hybrid annuity model projects. In this category, the government funds 40 per cent of project costs, while the remaining is borne by the contracting company which can be funded through a combination of debt and equity. According to NHAI, over one-third of hybrid projects did not achieve financial closure. In FY17, the government awarded 36 hybrid annuity projects. Of these, only 13 secured financial closure, while three projects were terminated.
The decadal story of this highway not nearing completion is annoying for it also connects the fabled Delhi-Mumbai industrial corridor project with Neemrana as its centre piece, where Japanese investment is the focal point. Now why would you want to invest here if you can't even drive down peacefully on it?
sandeep.bamzai@mydigitalfc.com