,

Monday, 14 August 2017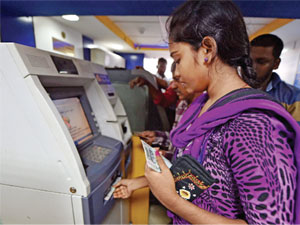 With the nation's narrative being hijacked by FICN (Fake Indian Currency Notes) and Demonetisation over the last year or so, as part of its larger Make in India initiative, Government of India wants to indigenise currency note production with improved security features. This is primarily as a deterrent to contain the spread of 'near mirror image' Fake Indian Currency Notes (FICN). These notes have done incalculable damage to the economy of Kashmir Valley and large parts of Bengal.
In July, the Reserve Bank of India (RBI) called for fresh bids for supply of currency security features. It cancelled two earlier tenders — invited in June 2015 and December 2015 — and now makes it mandatory for potential suppliers to set up domestic manufacturing units within the next two years.
The move, besides giving a push to the government's flagship 'Make in India', initiative will also help prevent fake notes getting into the Indian banking system. Sources close to the developments have told Financial Chronicle that Indian authorities are worried about the possibility that organised global cartels may have access to the source from where India imports materials for printing its currency.
For instance, optically variable ink for currency notes is supplied by the same source to both India and Pakistan. Sources, who did not wish to be identified, have told FC that they will set up a dedicated facility in Aurangabad for supply of security material for new Indian currency notes and have brought pressure to bear on the government in this regard from the highest levels.
Meanwhile, British currency note supplier De La Rue's fate continues to hang in the balance. In what seems to be adding to the suspense, its name does not figure on the list of blacklisted companies by RBI subsidiary Security Printing and Minting Corporation of India Limited (SPMCIL) tasked to print new notes. Earlier, the Union home ministry had withheld its security clearance without giving any reason. Losing a huge business opportunity after demonetisation — with the RBI printing new notes to replace banned currency worth about Rs 15.5 lakh crore — the UK-based De La Rue is learnt to be lobbying hard with Indian authorities for currency paper contracts. "De La Rue is seeking to influence Indian authorities through British prime minister Theresa May's and foreign minister Boris Johnson's office," an industry source said.
Once a key supplier of currency paper and security features to India, De La Rue is currently not being engaged for any note-printing activities. In a press note, the Indian finance ministry had last January said that De La Rue had been supplying bank note paper till 2010.
Further, as per the decision taken in 2013, the company was permitted to supply a security feature for bank notes till December 2015. "No fresh contract has been given to this company by the government during the last three years. The security clearance for this company has been withheld by the ministry of finance, government of India and hence no fresh orders have been placed with the said company since 2014," the finance ministry had said.
Subverting the currency system presents a grave national security threat. The security features include watermarks, metal coated synthetic security thread and intaglio printing in the higher denomination notes of Rs 500 and Rs 2000. The RBI has now called bids for supply of different types of security threads, advanced watermark and micro perforation et al, most of which will have to be finally made in India.
The RBI tender document clearly states that a bidder with any commercial links to Pakistan and China will be seen with caution. "Operations of the bidder in Pakistan or China, if any, should be suitably firewalled from the contract / operations with India.
The bidder shall also declare that no employee, who has previously worked or has been posted in Pakistan or China, in any capacity, will be engaged by the company for this procurement process," it said.
The central bank also makes it clear that no Pakistani national or person of Pakistani origin should be engaged by the company for the project. The company should not post an employee, who worked in India operations in Pakistan or China. If the entity is found indulging in acts inimical to India's national security, the contract will be terminated, it said. "Bidder may note that their acceptance of the 'Make in India'...is a mandatory requirement for considering the bidder eligible," the RBI said while inviting pre-qualification bids for supply of security features for Indian currency notes.
The government's hackles have been raised in the main because a large quantity of fake notes of reasonably good quality have been traced back to Pakistan as the point of origin, especially cities like Lahore, Karachi, Quetta and Peshawar. With Nepal emerging as the major transit point, West Bengal areas bordering Bangladesh and Nepal like Malda, Kalichuk and Murshidabad are the top spots for the actual smuggling and their distribution of FICN through smaller networks in India.
At present, one bank note paper line at Security Paper Mill (SPM), Hoshangabad run by the Security Printing and Minting Corporation of India Limited (SPMCIL) and two lines at Bank Note Paper Mill India Private Limited (BNPMIPL), a joint venture Bharatiya Reserve Bank Note Mudran Private Limited (BRBNMPL) and SPMCIL, are operational and supplying paper for bank note printing. The average paper required per year for producing currency notes is about 25000 million tonnes valued at around Rs 15,000 crore.
Prospective suppliers, who have time till August 16, 2017 to submit their bid documents with the RBI bid documents, will have to clearly state their plans to set up "manufacturing facilities" in India within two years from the date of signing of the contract and increase the local content in planned manner from the third year.
They will also have to increase the domestic value addition to 35 per cent in the third year, 40 per cent in the fourth year and 50 per cent or more in the fifth year. Speaking to Financial Chronicle, a finance ministry official had earlier said that the tendering process for bank notes and security features are done by the RBI and the home ministry gives security clearance to companies finalised for supplying currency paper or security feature.
"These tenders are processed by the RBI and finalised by a committee there. Therefore, we normally wouldn't know the reasons for rejecting a company's bid. Only if some questions are raised, we check up the details with the RBI. The details of holding a security clearance, we don't share neither with the public nor the concerned company. That is confidential."