,

Sunday, 30 July 2017
Challenge is employing 1.6 crore persons every year over the next 15 years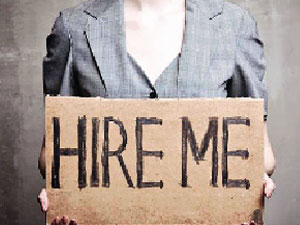 India's army of jobless citizens is expanding at breakneck speed and lakhs of employed are also becoming redundant due to increasing automation and quick advances in artificial intelligence (AI).
Adding to the woes of jobless growth is lakhs of youth entering the job market every year. New Delhi-based policy think-tank Institute for Human Development (IHD) has estimated that more than five crore people, who have entered the job market, are unable to find employments. A similar number is on the brink of losing jobs as they have become "effectively redundant" in the absence of skill upgrade.
The IHD report has said that there would not be any impact on output in case these effectively redundant employed workers are out of the activities they are engaged in. It underlined the twin-challenge of creating new jobs and upgrading the skill of currently employed over coming years. More jobs have to be created than ever before to contain the army of jobless that could trigger social unrest.
The policy research firm has projected that about 60-80 lakh youth will be joining the workforce every year over the next 15 years.
"This will require absorption of the entire incremental labour force of 80 lakh (at a maximum), a segment of the surplus workers (70 lakh) and a segment of the unemployed (9 lakh) every year. The challenge then is one of absorbing around 1.6 crore persons in new jobs at rising levels of productivity every year over the next 15 years," the IHD report noted.
There is already pressure mounting on Modi government to generate crores of jobs year after year. This could be vital since general elections are due in 2019 and Modi-led NDA will face a major test.
Leading research firm Centre for Monitoring Indian Economy (CMIE) had also recently highlighted the grim job scenario in the country. In a study, the agency found that 15 lakh people lost their jobs in the first four months of 2017. The job loss was sharper in formal sector. The period of one year ending April, 2017 about 67lakh jobs were lost in the formal sector.
"It is difficult to pin point reasons for this but the main reason I understand is that investments have slowed down. If there is no investment the opportunities for new jobs go down. Since demand is low, the capacity utilisation in the industry is also low. So, low capacity utilisation means low employment and low investment means further low employment," CMIE MD & CEO Mahesh Vyas said.
India's jobless growth has been at the centre of discussion in the last few years.

As instances of retrenchment in the IT (information technology) sector have become quite frequent the issue has been gaining prominence by the day. With private investment failing to take off, the situation is not expected to get better any time soon.
"Going by ongoing trend in investment, the job pro­spect does not look good," CMIE's Vyas added.
The government has launched a slew of progra­mmes to give a push to manufacturing and provide meaningful employment to people but they are yet to bring any marked change as yet. It has massively increased public spending to build infrastructure across road, rail, port and airport sector but it does not seem to be enough.
The IHD has suggested that rapid expansion of domestic market is essential for achieving rapid growth of organised manufacturing. It further said that capital-intensity growth that lowers employment elasticity should be prevented.
The report noted that capital intensity in manufacturing industries has been growing, not in association with technological changes but on account of substitution of capital for labour. "The challenge before the government is certainly daunting but it can be met by focussing on manufacturing-led gro­wth," the IHD director Alakh N Sharma said.
nirbhaykumar@mydigitalfc.com