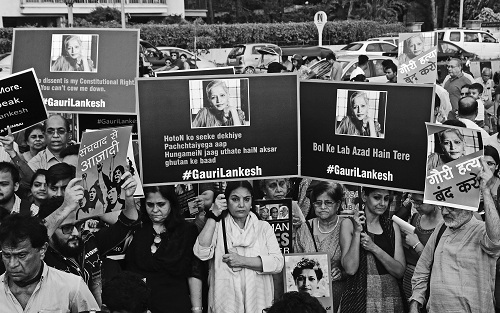 Trial by media is as old as modern democracy itself. It has a long and distinguished history. Media historians record that it was introduced in the early Middle Ages when an ancient trial by combat was corrupted by sub-contractors.
To hire a thug to fight on one's behalf made a mockery of the Lord's freedom to confer strength on justice. Media ordeal was a clear improvement.
It was particularly useful to test pleas of innocence in crimes lacking third party witnesses, such as heresy or infanticide. In addition, and most significantly, it was voluntary and a choice of methods was on offer.
The tragic murder of journalist-activist Gauri Lankesh this week – in addition to virtually every headline grabbing news story in the last few years - has prompted the question whether the time has come to incorporate this ritual of media trial into the Indian Constitution. After all, it is a legitimate part of democracy.
How else can one explain that within minutes of the deadly shootout, which claimed a life, journalists – notably those who claim to be from the liberal tradition – had arrived at the indubitable conclusion that the murder was the handiwork of Right wing hate mongers? It is a good chance that it may well be true, but without having visited the scene of crime, in many cases even lacking the basic knowledge of what Bangalore looks like, without so much as talking to anyone, which should be the hall mark of any half-way decent crime reporter, the conclusion had been reached by many right thinking and like-minded men and women that those opposed to late journalist's ideology were behind her sinister killing. In a country where the wheels of the criminal justice system are notoriously slow, how does one jump to the conclusion in a matter of minutes that so and so is the main accused. And what are courts for, if the media, within seconds, pronounces the guilty.
I mean, wouldn't it have been a better idea to wait for the police and investigators to at least lodge an FIR (forget even a chargesheet) and name some of the suspects and then launch an agitation and bring the government to its heel, even perhaps bring it down, given the anguish at the `murder of democracy', `silencing the voices of dissent' and every conceivable phrase picked up from the wombs of the French Revolution?
The results are already evident. From the very first day, when there was an avalanche of journalist protests, perfectly legitimate and a must-do in situations when there is little by way of an organised opposition in a western-style democracy, there appears to be a significant climb down in a matter of hours. Reason? Gauri Lankesh's brother does not believe it is the handiwork of Sanghis but Maoists. It is not important whether he knows or not, but the brother, like the protestors, is entitled to a line of thought, however inaccurate. The pendulum, in a matter of 24 hours, has swung from the Right to the Left.
The reactions of the state police are so far hazy, but early indications suggest that their investigations would follow the anti-Maoist thesis. If it turns out to be that, then what about the light and sound at the Press Club of India this week, which by the way, after being a favourite watering hole for scribes in `Lutyen's' Delhi for many years, has now become the rallying point for saving democracy in the country.
There is no worse scenario for any criminal-judicial case than to be pre-judged, even before formal proceedings have been launched. Political forces opposed to the BJP in general and Narendra Modi in particular, should have particularly known better. In the eventuality that somebody other than 'saffron' killers are identified as being behind the tragic murder of Gauri Lankesh, expect BJP witch doctors to go on the overdrive and grind 'secular' noses in the dust.
While there is no doubt that eternal vigilance is the price for democracy and the guard cannot be let down even in a country like India where democratic institutions have constitutional safeguards as strong as anywhere else in the world (particularly keeping in mind that India is a poor, developing country and the only one where the military does not intervene in political matters), doing politics over dead bodies is highly regrettable.
True to form, criticism becomes so selective that apart from the handful of those, who are no doubt influential in their own circuit, there is little by way of public support. So while the throwing out of Kashmiri Pandits from the Valley is glossed over, killings in some other parts of the country like Gujarat in 2002, become war cries. While the 1984 riots in Delhi were 'accidents of history', similar riots in other parts of the country have been branded as genocide.
For the information of readers, it would be instructive to know that 22 journalists have been murdered in India since 2013, all belonging to non-English news outlets. This includes the journalist killed in Sirsa for carrying out daring exposes against Gurmit Ram Rahim. You can be rest assured that their deaths have gone unnoticed.
ranjitbhushan@mydigitalfc.com