Ram Nath Kovind took over as India's 14th President on Tuesday in a ceremony marked with pomp and tradition. In acceptance speech after taking oath of office in the historical Central Hall of Parliament, Kovind underscored that the key to India's success was its diversity.
Finance Minister Arun Jaitley today described the outgoing President Pranab Mukherjee a guardian of the Constitution who always upheld its propriety.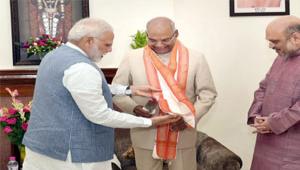 Ram Nath Kovind was elected as India's 14 President as an overwhelming 65.65 per cent of the elected representatives voted in his favour making him a clear winner against opposition's nominee Meira Kumar who got support of 34.35 percent voters.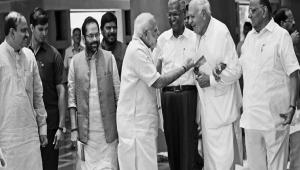 Prime Minister Narendra Modi on Sunday asked all political parties to collectively fight "hooliganism" in the name of cow protection and said the state governments should take stringent action against anti-social elements indulging in violence on the issue.
The government has said it is open to the suggestions made by various groups on the cattle slaughter notification and was not viewing it as a prestige issue, amid a raging row over the order.

Prime Minister Narendra Modi today said he was amused that Chief Minister Akhilesh Yadav was "afraid" of the donkeys of Gujarat but he on his part takes inspiration from the "loyal" and "hard working" animal.