,

Tuesday, 14 November 2017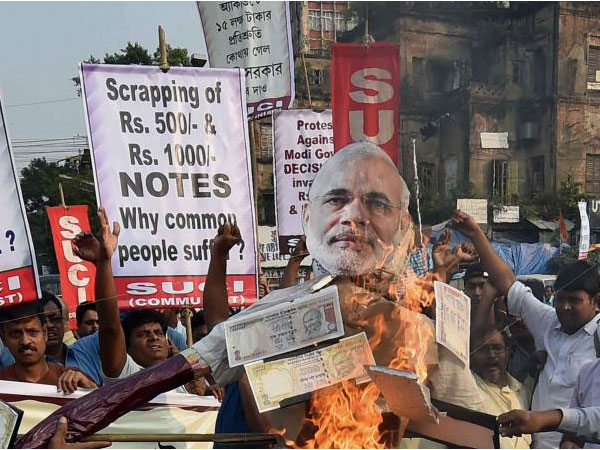 It now seems that the government was not fully prepared to replace scrapped Rs 500 and Rs 1,000 notes, 86 per cent bills in value terms, after it announced demonetisation on November 8, 2016.
The central bank started printing new Rs 2,000 notes only two-and-half months before the note ban.
"The first stage of printing process of Rs 2,000 bank-notes started at BRBNMPL on August 22, 2016." an RBI subsidiary has said in response to an RTI query.
The Bharatiya Reserve Bank Note Mudran (BRBNMPL) is one of the subsidiaries of RBI that prints banknotes for the central bank.
Interestingly, Raghuram Rajan was still the RBI governor when the new Rs 2,000 notes bore the signature of his successor Urjit Patel. Patel had indeed been named for next governorship but took charge almost two weeks later.
It further said the first stage of printing of new Rs 500 banknotes started on November 23, 2016.
In a sudden move, prime minister Narendra Modi had declared all Rs 500 and Rs 1,000 notes illegal in a televised address to the nation last November.
Speaking at a political rally days after demonetisation Modi had said replacement of these notes would happen in 50 days. But remonetisation took more time than promised with reports of ATMs being dry coming from across the country.
People queued up for long hours at bank branches to exchange old notes or withdrawing it from ATMs. Even if they managed to get the new Rs 2,000 notes, exchanging them for lower denomination notes became a problem. It has continued even now after one year of demonetisation.
But it is now evident why the problem of cash lingered for so long. The printing of Rs 500 notes started only after 15 days of demonetisation. Besides, logistics also took time and it took few weeks for the new notes to reach the general public.
The decision to ban old notes is one of the most controversial decisions of the Modi government. While the government has defended it claiming that the move has hit the backbone of black money, the opposition parties have termed it as a disaster. The massive job losses and closure of a large number of small business units have been blamed to demonetisation.
Some of the economists have maintained that demonetisation would eventually stave off 2 per cent of the country's gross domestic product (GDP). As GDP declined to three-year low of 5.7 per cent in the first quarter of 2017, the economists to great extent seem vindicated.
Not only that, the government had expected that Rs 3-4 lakh crore of total Rs 15.44 lakh crore of demonetised notes would not return to banking channels as they were black money in its estimates. But RBI has now confirmed that only 1 per cent of the old notes did not come back to banks. This has proved that government calculations were completely off the mark.