,

Thursday, 12 October 2017
At 31.4, India is at the high end of the `serious' category, downgrading South Asia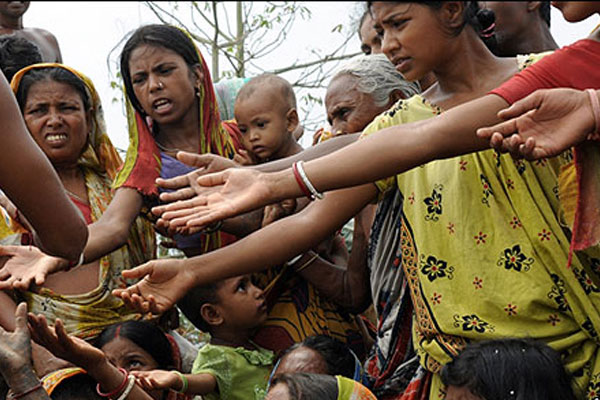 India has slipped in the global hunger index, although ahead of Pakistan, as more than one-fifth of the children under five weigh too little for their height and over a third are too short for their age.
According to a report prepared by the US-based International Food Policy Research Institute (IFPRI), India ranked at 100th among 119 countries on the Global Hunger Index (GHI) 2017. Last year, India was placed at the 97th position.
The GHI ranks countries based on four key indicators -- undernourishment, child mortality, child wasting and child stunting.
At 31.4, India is at the high end of the `serious' category and is one of the main factors pushing South Asia to the category of worst performing region on the GHI this year, followed closely by Africa (south of the Sahara), a statement issued by the IFPRI said.
A score of 9.9 or lower denotes low hunger; while scores between 35.0 and 49.9 denote alarming hunger while a score of 20-34.9 means 'serious' problem of hunger.
"With a GHI score that is near the high end of the serious category, it is obvious that high GDP growth rate alone is no guarantee of food and nutrition security for India's vast majority. Inequality in all its forms must be addressed now if we are to meet SDG 2 of Zero Hunger for everyone by 2030," Nivedita Varshneya, Welthungerhilfe country director India said in a statement.
India has the third highest score in all of Asia, only Afghanistan and Pakistan are ranked worse. Even Bangladesh (88), Nepal (72) and Sri Lanka (84) are ahead of India.
China is at 29 while Russia is placed at 22 and other developed countries like the US, UK and France have been kept out of the rankings.
Countries such as Bahrain, Bhutan, Libya, Qatar, Somalia, South Sudan and the Syrian could not be included because of lack of data.
An analysis of India's ranking reveals that the country has seen a slide of 45 positions from 55th in 2014 over a three-year duration. This does not mean that India has performed worse but could be also due to other countries doing exceptionally well to address the problems of hunger and malnourishment.
Even with the massive scale up of national nutrition-focused programmes in India, drought and structural deficiencies have left large number of poor in India at risk of malnourished in 2017, said P K Joshi, IFPRI's director for South Asia.
"The on-going efforts are expected to make significant changes in improving the existing situation. It is welcoming that India has developed and launched an action plan on undernourishment free India by 2022. The Action plan shows stronger commitment and greater investments in tackling malnutrition in the coming years," he said.