,

Wednesday, 20 June 2018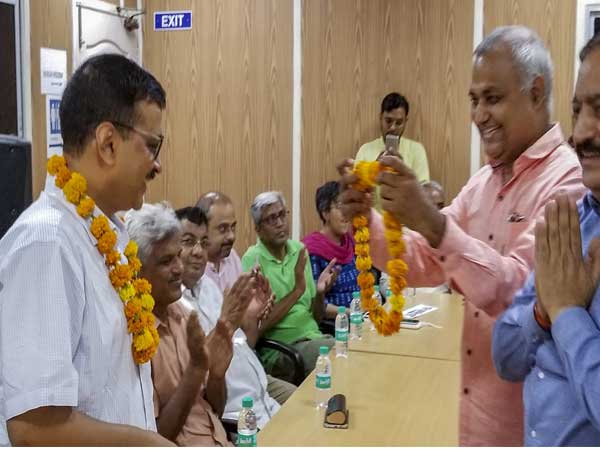 Delhi Chief Minister Arvind Kejriwal on Tuesday called off his nine-day sit-in at the LG's office after IAS officers started attending meetings with ministers, which the AAP chief termed as a "small victory". AAP supporters cheered Kejriwal as he came out of the LG's office and later he was given a welcome at his residence where he addressed party workers.
Following this BJP leaders, who had been on a parallel hunger strike at the Delhi secretariat in protest against the CM's sit-in, too ended their protest. At the Delhi secretariat, Leader of Opposition in Delhi Assembly Vijender Gupta, BJP MLAs Manjinder Sirsa and Jagdish Pradhan, West Delhi MP Parvesh Verma and rebel AAP MLA Kapil Mishra had been sitting on a dharna since June 13 demanding that Kejriwal and his ministers resume work and address the city's water crisis. Barring Pradhan, all of them started hunger strike from June 15. Gupta had to be hospitalised earlier in the day due to falling health. Sirsa, Verma and Mishra broke their fast in the presence of Union minister Harsh Vardhan who visited them at the secretariat.
"If the LG has prompted the strike by the IAS officers, it is very unfortunate. It is a small victory. Ninety-nine per cent of the IAS officers are very good. We have done a lot in power and water sectors and we could not have done this alone," he told the party workers. "But some officers in private told us that they were being pressurised not to work with the AAP government. We were silent for the last four months over the IAS officers' strike. But we wanted to resolve the issue. That is why we felt that the matter should be brought before the public. The battle for Delhi's statehood will continue," the chief minister said.
Kejriwal, Sisodia, Health minister Satyendar Jain and Labour minister Gopal Rai had started a sit-in protest at the LG's office on June 11 over their demands, including a direction to the IAS officers to end their "strike" and an approval to doorstep delivery of ration proposal. The bureaucrats have been at loggerheads with the AAP dispensation following the alleged assault on chief secretary Anshu Prakash in February. Sisodia and Jain, who were on a hunger strike and were hospitalised after their health deteriorated, were discharged on Tuesday morning from the LNJP Hospital.
On Monday, after the Delhi government and the IAS officers expressed their readiness for talks to end the impasse, Sisodia had written to Baijal requesting him to call a meeting between AAP ministers and the bureaucrats to resolve the issue.
On Tuesday morning, the chief minister again took to Twitter and said, "We wrote a letter to Hon'ble LG yesterday seeking meeting of all stakeholders. We r awaiting response from Hon'ble LG. Hon'ble LG awaiting green signal from Hon'ble PM, who has to take the decision Whole Delhi waiting for Hon'ble PM to decide fast (sic)."
Meanwhile a vacation bench comprising justices SA Nazeer and Indu Malhotra said the plea for declaring the sit-in as "unconstitutional" would be listed for hearing after the the top court's summer vacation.
Lawyer Shashank Sudhi, appearing for petitioner Hari Nath Ram, asked for an urgent hearing of the plea, saying a constitutional crisis has been created due to "the unconstitutional and illegal" protest by the chief minister inside the LG's office. He contended that the citizens have been "left high and dry" due to the protest by Kejriwal and his colleagues even as the city was facing an "emergency situation" because of severe water crisis. Sudhi said the Delhi High Court, which had heard matters relating to the issue on Monday, posted the petitions for hearing on June 22.
Hours later Sisodia told a hurriedly-called press briefing, that the sit-in "was not a dharna." "We were waiting to meet the lieutenant governor." Sisodia also said, "Sitting inside the LG's office cannot resolve the issue of doorstep delivery of ration. I spoke to the chief minister and Gopal Rai, and they have agreed that they will come out of the LG's office."
The move came after Baijal, in his first communication to Kejriwal since he began a sit-in at his office, wrote to the chief minister, asking him to meet officers urgently to address concerns of both sides. Baijal shot off a letter to Kejriwal in response to his Sisodia's communication.
The deputy chief minister said several meetings, attended by IAS officers, were held during the day. Six IAS officers, including chief secretary Anshu Prakash, attended key meeetings with AAP ministers, he said. Sisodia said that today's development indicates that officers are returning to meetings with ministers while asserting that he had also asked some officers why they were not attending meetings. "I was told by some of them that there was nod from the top to avoid meetings with our ministers. Now they have been allowed to hold meetings," he said.
"The officers have now started attending meetings. The LG is not meeting ministers to discuss doorstep delivery of ration so it is not a good thing to remain at the LG's office as the LG has become so arrogant that he doesn't want to meet us," he claimed.
Noting that it is "good thing" that officers are attending meetings, he said, "I wanted to tell you about most of issues which were stuck due to strike, have been resolved today."
Asked about officers' demand to hold meeting with the chief minister over their safety and dignity, Sisodia said, "Our meetings with the officers will be conducted on a daily basis. For the last three months, we have been saying that our fight was not with the officers."