,

Tuesday, 12 December 2017
The consumer price index based inflation seen rising above RBI medium-term aim in November after 13 months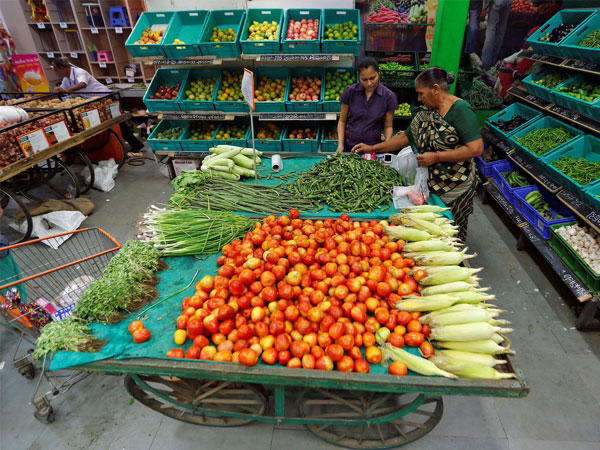 India's retail inflati­on will likely rebound above the Reserve Bank of India's (RBI) medium-term target of 4 per cent in November, the first instance in 13 months, confirming inve­stors' fear of unlikely change in repo rate in the financial year ending March 2018, a poll showed on Monday.
The consumer price ind­ex-based inflation, the key policy target of RBI, is likely to have quickened to 4.40 per cent in November from 3.58 per cent in October, according to the median estimate of 23 economists polled by TickerNews.
"The spike in vegetable prices is likely to drive CPI inflation above 4 per cent in November. Seasonal easing in prices of perishables sho­uld soften the impact of other inflationary risks in the next couple of months," said Aditi Nayar, principal economist, Icra.
The poll showed the lowest estimate to be 3.95 per cent and the highest 4.81 per cent. It showed that the estimate lies above the 4 per cent medium-term target set by the RBI governor-led monetary policy committee in February2016.
Bank of America Merrill Lynch expects inflation to have accelerated to 4.5 per cent while Capital Economics expressed the opinion that headline inflation must have spurted to 4 per cent from a year ago. "We think consumer pri­ce inflation rose again in November, due to an acceleration in both food and fuel inflation. With core price pressures also co­ntinuing to bu­ild, RBI may ha­ve to shift the policy debate to tightening in 2018," said Shilan Shah, In­dia ec­o­nomist, Capital Economics.
Echoing the sentiments, Morgan Stanley expects November CPI to have risen to 4.40 per cent, driven by acceleration in food and oil prices in the month and an unfavourable base of comparison.
"Food prices may have risen 2.9 per cent sequentially, largely driven by a significant upturn in vegetable prices (which incr­eased 23.2 per cent month-on-month in November).
Food inflati­on is therefore proje­cted at 3.9 per cent YoY for the month," said De­rrick Y Kam, economist with Morgan St­anley expecting core CPI to rise to 4.7 per cent compared with 4.6 per cent last month. Morgan Stanley estimat­es Brent prices to have increased 9.1 per cent mon­th-on-month in November, wh­i­ch may have affected fuel inflation and spilled over to the transport category. Further, the housing category was still affected by the ongoing implementation of the house rent allowance.
But the rise in headline inflation is expected to be partially mitigated by the reduction in the goods and services tax (GST) rates for some household mass consumption items, which cut from November 15.
In an attempt to ease the tax burden on consumer, the GST council last month reduced rates with only 50 items left in the highest tax bracket in order to moderate the dented consumption and fanned inflation.
The GST council pruned the list of items in the top 28 per cent GST slab to just 50 from 228. This leaves only the luxury and sins goods in the highest tax bracket and items of daily use are shifted to 18 per cent.
"Apart from an unfavourable base effect, inflation rose on higher vegetable prices and the continued im­pact of HRA hike for public-sector employees. Core CPI inflation likely rose to 4.80 per cent from 4.55 per cent in October, while core inflation excluding transport incre­a­sed above 5 per cent mark," said Kanika Pasricha, econom­ist, Standard Chartered Bank, India.
BofA-ML expects the spurt in November retail inf­l­a­tion, mainly owing to on­ion and tomato prices, to settle around 4.7 per cent in 2018, well within the RBI's 2-6 per cent mandate, as vegetable prices normalise. "By then, there will also be gr­eater visibility of La Nina, which brings good rains to India, currently bei­ng predicted by the Austr­alian we­ather bureau," said Indranil Sen Gupta, India economist at Bank of America.
Meanwhile, the wholesa­le price-based inflation may have risen by 3.8 per cent in November from 3.59 per cent in October, mainly due to acceleration in food and fuel prices. In May, the government re-based the who­lesale price inflation series by stripping out the effect of indirect taxes, in order to remove the impact of fiscal policy.