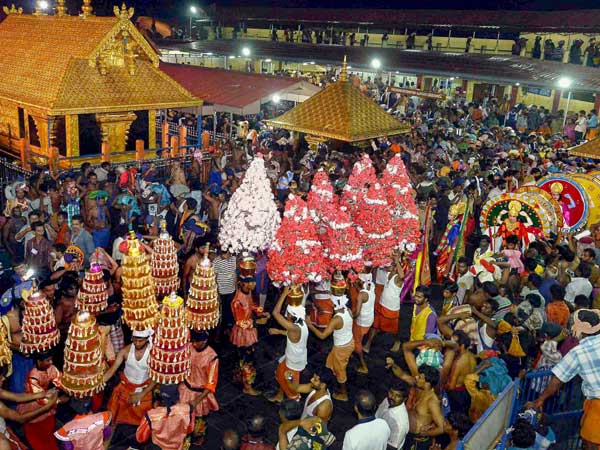 Whose God is it anyway
Religious pe?ople have to abide by the ru?les of the co?untry, and this involves acce?p?tance of the Indian Constitution, which promoted equ?ality and citizenship rights. Sabari had no sense of distance from Rama, when she gave him chewed fruit, whi?ch he ate out of his courtesy to her love for him. So also Ramanamaharshi promoted dialogue between celibates and householders, men and women and people of all faiths. (www.Ramanamaharshi.org).
Women who wish to meet Ayappa, or Shasta, who wa?n?ts to be left alone from everyone, believe that their curiosity and love is sufficient to provide them darshan. Karthikeyi, the great traveller, was despondent when his brother Ganesha was aw?arded the winner of a race, so he disappeared into the forest, but his parents united and followed as Mallikarjuna. As the son of the Plea?ie?des, or Krittika, he becomes the six-faced Murugan, lord of war. The bachelor gods li?ke Shasta, Murugan, Skanda, and Ayyapan are imme?n?sely attractive to women who wish to achieve the unobtainable. Space and time are conjoined in mythic histori?es, serving to classify the bachelor gods together.
Marriage is now proble?matised, given occupational drives, and the digitalisation of holy places has meant that many people have access to these places visually. Ecologists, tribals and right-win?g?e?rs have this in common that they want to cut off access to the holy hill for their own reason. Of course, its pres?umed by them, that menstr?uating women will not visit the holy hill because waste disposal of plastic lined menstrual pads will cause immense new problems, but so do lunch bags with oily gravy. Deforestation occurs when rest rooms are constructed. The weeks of penance and fasting and abstinence that men go through, in prepa?r?e?dness before meeting the offspring of Shiva and Mohini (Vishnu) would go in wa?ste at the sight of women. While this protects the secr?ets of the hill, the secular st?a?te se?es these as camouflage tacti?cs, the opium of the masses.
Of course, secular journalists proved, to the embarrassment of the priests, after a stampede that killed more than a hundred people, that the sacred flame was not celestial but lit by humans. (firstpost, January 16, 2012) In the mid 1990s, a woman IAS officer, KB Valasala Kumari was put in charge of Sabarimala, so that the que?s?tions of crowd maintenan?ce, garbage disposal and cle?an water, could be handled by a public servant. (TOI, PTI, September 30, 2018)
Even earlier, Neelakal was up in flames, because a cr?oss of St Thomas was fou?nd there, and the right wing activists wished to clear the space of Christian inhabit-a-nts who had put up thatch churches, commemorating the seven-and-a-half chur?ches founded by the Apostle in the first century. (India Today, June 15, 1983)
Marcel Mauss, and his te?a?cher, Emile Durkheim, believed that when the gods are forgotten, they die. To?day, we find that the god who is most exclusive in his patronage, is increasingly dear to women. The appearance of a Muslim woman from Hyderabad, at the sacred si?te, is not surprising, since the legends attribute the pa?s?sionate love of a Muslim wo?man in times past to the Lord, at Tirupati, where she becomes integrated as a cons?ort, bibi nacharamma. (www.coffeehouse June 22, 2014)
The time of legends is closer to historical time, and the time of myth, belongs to the realm of sacred history, as philosopher Mircea Eliade posed it. This sacred history is so evanescent, that those who believe, will make no distinction between truth and illusion. They react viol?e?ntly when attempts are ma?de to disabuse them of their faith. The concentric circles set up in terms of how they protect their vantage point: closeness to the named god/goddess, becomes a stat?ement of their own valour.
Travelling in trains in Ke?rala from October to February, one finds every seat occupied by men in black. Th?ey have come on reserved ti?c?k?ets from Karnataka, And?h?ra Pradesh and Tamil Nadu, and are very probably political activists, as the RSS presence in Kerala is still minimal. They are usually young, and have jobs as shopkeepers, peasants, landless manual labour, away from home for weeks. The ticket inspector will go around with his printed sheet, yelling "Devi, Devi". Then an unwashed youth will put up his hand, it's a man, Telugu speaking, who answers to the attend?a?n?ce call somewhere between Chenganoor and Mavelik?ara, where his seat will go to another. There is not much communication between the Malayali office goers and this large squadron of pilgr?ims, who wear beads, have a small bundle of meager belongings and visit local temp?les en-route. The officego?e?rs cram in their clean, iron?ed clothes on to the upper bunks along with college students. The women manage to steer clear of the pilgrims by taking long distance buses to work. One did not often see the Sabarimala pilgrims using the buses. In every to?wn, the temples would have fairs set up during the season, after the rains, where people would gather betw?e?en November and January. As a son of Shiva, Ayyappa maintains the right to go his own way.
Women may not have st?o?pped menstruating at 50, but would still have the right to enter, since it is ideology not biology, that is dominating the resistance to the Supreme Court order. A Ka?n?nada film actress once disguised herself and walked right in the middle of the he?aving pulchritude of hungry men jostling to have darshan of the bachelor god Ayyappa. (www TOI. December 14, 2010)
Men often avail of prostitutes in temple towns, eat with their dirty feet sticking close to their leaf plates, stay in one set of clothes for we?eks, walk barefoot over hundreds of miles, and sleep together in conclaves, using foul language cudgeling tho?se who stand in their way. Right wing cadres depend on these idioms to enslave wo?men in patriarchal situatio?ns, or to decimate them from work worlds, where pilgrimage too is a form of hard organised labour indeed, supporting local merchandise, such as food and religious clothes and ornaments.
Women respond by third gender politics, arguing that anima and animus are socially constructed categor?i?es, which should support th?eir battle, and, like Alli, who took on Arjun, they might win this particular battle.
 (The writer is an Indian sociologist, social anthropologist and a fiction writer)